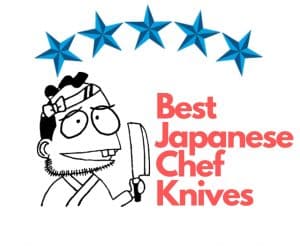 こんにちは (hello!) Asian Knives, especially Japanese knives are well renowned and well built. They have mastery over knife crafting. if you are a chef, once you up the kitchen game a bit higher, you may want to try something different and get the best japanese chef knives for cooking.
Japanese admire their culture and makes something unique. So is the gyuto they make which is the equivalent of a western chef's knife having either a western (yo) or Japanese (wa) style handle.
Its usually lighter than the western counterparts and a gyuto typically has a curved belly near the tip. That's how you identify Japanese gyuto. We've already covered some of the best chef knives for money and this is a follow up guide if you are looking for more japanese gyuto's .
Top 5 Best Japanese Chef Knives Reviews
Lets go to the knives Reviews
The Aogami Steel Kurouchi Chef Knife is not your regular knife that's produced in bulk. This is a handmade knife made by highly skilled Japanese blacksmith. It's light, stable, well-balanced, and tough, all at the same time.
Moreover, this knife is wicked sharp, and it sits well in the hands without slipping. Therefore, it can prove to be a handy tool in a busy kitchen. In fact, this exceptional knife will make you forget about your German knives sometimes.
But we do not recommend it for more than home & amateur cooking. It doesn't come with a fine edge. you have to sharpen it. Available for both Right and Left Hand. But It's cheap and for the asking price,its worth.
It has a thin and light profile to it. Nothing spectacular in visual appearance, just look like a regular classic knife. The blade is of high carbon and features a walnut handle. The handles maintain the hand grip even when you use wet hands. The knife will easily do well in a demanding work environment but not for heavy duty.
Pros:
This knife looks lovely in the hands, and it's extremely comfortable to use. Moreover, the knife holds its edge for a long time.
The Aogami Steel Kurouchi Chef Knife is a double bevel knife, which means that it can be used both by right and left-handed chefs out there.
The knife arrives in a nice fancy box, which is like icing on the cake. The nice packaging makes this knife a presentable gift.
This knife can easily compete with most of its competition that boasts of being an engineering marvel because of its Japanese origin.
Cons:
The handle on the Aogami Steel Kurouchi Chef Knife is not the best out there. Comfort-wise, it may not measure up to everyone's expectations. That said, the handle can be easily replaced without any fuss.
No Sharpening out of the box.
If you are a picky chef shopper, you need to take a look at this Japanese knife. The blend of VG-10 steel and the blade geometry makes this knife a leader of the pack. It could easily be one of the sharpest kitchen knives out there for kitchen use. The fit and finish of this knife are pretty much unmatched. In fact, not only does this knife has a great finish to it, it's an excellent looker as well.
So, you will be getting a beautiful workhorse, which could be one of the finest examples of high-end kitchen cutlery. The knife arrives in a premium box with golden Japanese characters.
For supreme durability, the knife features 16 layers of outer steel. This thing won't rust easily. It's razor-sharp and nicely balanced. The handle on this knife is also made from good quality wood. Therefore, it's a delight to use this well-constructed knife.
Yoshihiro VG10knife is truly a work of art. The Japanese craftsmen have done an amazing job over here. It's 100% handcrafted from scratch. It's a fine specimen of Japanese knife that could be your go-to knife for several years to come. It's one of the best Japanese chef knives everyone can get.
Pros:
The Yoshihiro VG10 is a double bevel knife. Left or right-handed person, anyone will be able to use this knife with great ease.
The knife comes pre-sharpened. In other words, this knife is use-ready right out of the box.
The edge retention on this knife is simply awesome. The edges maintain their sharpness for a long time.
The quality and performance of this Japanese chef knife are easily comparable to other knives that cost twice or thrice the cost of this knife.
The knife looks much prettier in person than in the pictures. Simply put, this knife is a trending beauty in the Japanese knife
Cons:
Although there's more to this knife than what meets our eyes, this Japanese knife is not dishwasher safe. Maybe unwillingly, but you will have to handwash this thing.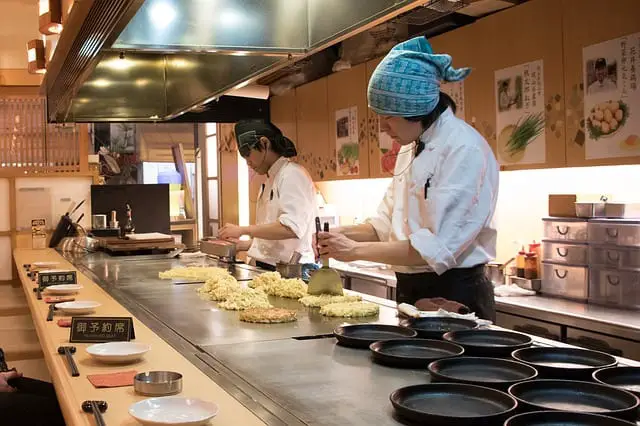 The Syosaku Japan Chef's Knife is a one-step further Japanese knife that can give its competition a wounded feeling at any hour of the day.  For starters, the sharpness and looks of this knife make it an amazing art piece for any kitchen, Yes, the Syosaku Knife is ruthlessly sharp and stunningly great to look at. Therefore, you can expect both style and substance from this product. This Japanese knife really nails it with its freaking sharpness.
The amazing balance and the precision cuts of this knife really place this thing ahead of similar competitive products by great lead. You won't have to put too much pressure during work. The knife will do the work. You simply have to guide it. As you can tell by now, the problem with this knife is that it's too nice to be put to hardcore use.
You will simply be holding and looking at it for much longer than usual. Of course, this is not a bad problem to have. Not to undermine the fact that the company entitles you to return the knife anytime within 30 days for a full refund.
Pros:
One of the first things that strike out when you unpackage the knife is the stunning beauty of this product. This knife is indeed an eye-pleaser.
The knife is handmade with a great degree of TLC. Every unit is produced one at a time by Japanese craftsmen who know their job really well.
The factory sharpness easily lasts for a few months, and additional sharpening down the road brings out the knife's finesse.
Given the insane sharpness, you will be able to cut harder fruits and vegetables with ease
The handle of this knife is made from premium Mahogany wood. The material ensures a firm grip during use and stays water-repellent.
Cons:
This knife doesn't have any major product flaw to rant about. This rarely happens, but I am not romancing with the knife by saying so.
The Yoshihiro Cutlery NSW Gyuto Knifeis well-suited for cutting, chopping, slicing, or any other kitchen prepping activity that requires a knife. The traditional Japanese Wa-style handcrafted octagonal-shaped handle of this knife has a good shape and size to it for seamless user handling. As mentioned earlier, it's very sharp.
For the price you are paying, you are getting an exceptional level of quality. Proudly made in Japan, this knife is a competition-destroyer. According to the makers, the knife is hammered with 46 layers of steel for unmatched efficiency and durability. It's easily one of the best physically constructed chef knives out there.
You will be able to slice tomatoes with this Japanese knife without even holding the tomatoes. Absolute razor precision, to say the very least. This knife really has admirable features.
Given its amazing sharpness, the knife chops down most fruits and veggies with almost no resistance. It's a lightweight and highly versatile knife that will enhance your kitchen skills. The Yoshihiro knife truly combines beauty and performance like nobody's business.
Pros:
A knife cover is included in the deal to protect the knife. Of course, the add-on product comes with no extra cost on your wallet.
This fine-edged Japanese knife features smooth and rounded handles, which are very delicate on the user's hands.
The blade on this Yoshihiro knife is very thin and light, which actually improves its utility and function.
It's a working piece of fine art that will ensure that your cooking won't be the same again. It will change for the good!
Cons:
The knife may be a little expensive for all the budget shoppers out there. That said, it's worth stretching the budget a little bit to own a knife of this standard.
As said, You could get a German branded knife for the same price point.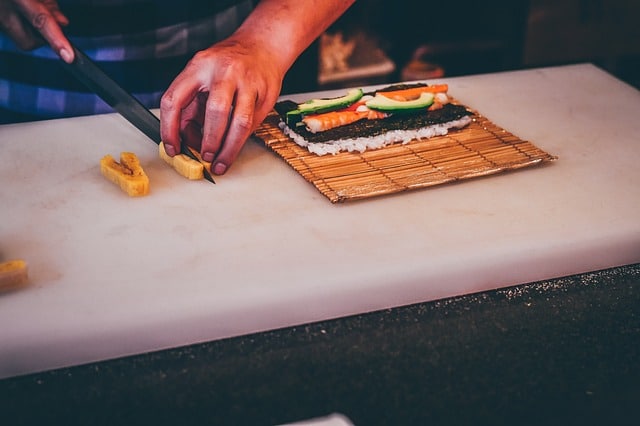 Zwilling a well known brand who owns miyabi gyutos. Constructed  from superior-quality SG2 steel, the Miyabi Mizu knife is a wonderful knife to show off as well as for everyday use. Right from the cutting quality to the ergonomic feel, everything about this knife is right on the money. It's extremely well-balanced and well-constructed to the bone.
If you want to make your cuisine life easier, don't hesitate to pull the trigger on this high-quality Japanese knife. It's using SG2 Hard steel which is easy to sharpen and keeps the edge longer. The polished Damascus layered Steel is stunning and gives beautiful look.
It's indeed a great kitchen toy to own. You will get many years of valuable service from this well-designed kitchen toy. it would be hard to find a comparable replacement for this knife in the same price range.
Let's look into some other features of this knife.
Pros:
supreme sharpness and ease of use, which makes kitchen prep easier than usual.
SG2 steel, Handcrafted
Stunning looks
This knife sits comfortably in the hands, and it cuts through everything like butter. You will be able to grip the knife well even with wet hands.
Lifetime warranty
Compared to other competitive knives, it's more reliable and durable.
Cons:
A hard cutting board is not compatible and it can't be abused for heavy duty cutting
This is a high-end Japanese knife. So, be prepared to shave off top dollars for this premium knife.
Traditional sharpening rods won't work.
At the end of the day, there's no one size that's fit for all. Japanese knives are not for everybody. But you shouldn't choose a lackluster knife either. がんばろう.