Wood isn't as hard as marble or granite, but it costs less than they do. It's also more natural and sanitary than plastic and doesn't damage the knife as bamboo might. In other words, it's the go-to choice for anyone.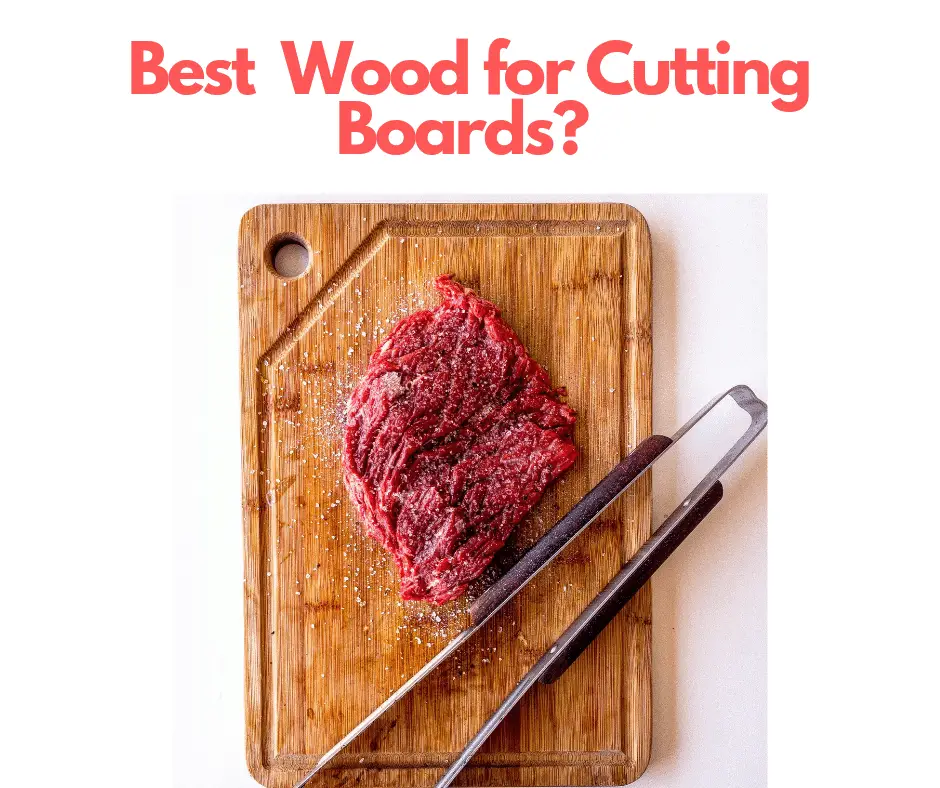 But not all wood 'works' the same. There are plenty of details you have to consider before buying a wooden cutting board. After all, you want your knives to stay sharp, and your food to be safe after cutting.
With that in mind, let's focus on what makes the best wood for cutting boards
Quick answer to second question the question which wood to avoid?
Avoid boards made of purpleheart and similar trees, as these can be toxic to the human body.

Avoid ash or oak, as well as other types of open-grained wood with big, visible pores.
Best wood for cutting boards – Quick comparison
You chose a nice flashy chef's knife, you're gone all out on a cast iron pan. But what is the first thing that you would do? You prep the ingredients.
Even with amazing ingredients, you would need a good cutting board to be able to chop, slice and dice them properly. That means it should last a long time, keep your knife intact, and not slide dangerously around the counter!
Traits of Good Wooden Cutting Boards – Buying Guide
There are so many cutting boards on the market, and it can be perplexing to know the good ones from the not-so-much. 
A cutting board is an essential tool for anyone who spends a lot of time in the kitchen. Whether we're chopping vegetables, meat or fruit, we need a good, hard surface underneath to take each strike of the knife. So what kind of a wood cutting board, chopping board or butcher block works the best? Most experts will tell you it's wood.
1. Grain Tightness
Wood has the nasty habit of soaking up liquids. In addition, since it is a natural material, bacteria find it a good home. Once either bacteria or liquid penetrates the wood, it can either warp, stain, or become a breeding ground for mold. None of these are good for food.
The best solution is to buy a cutting board with a tight grain, i.e., pores that we cannot see without a microscope.
And speaking of grain…
2. Grain Types
In general, wood has three types of grain. These are:
Face grain (the pattern that runs along the main length of a board)
Edge grain (the pattern that runs along the long, narrow side of a board)
End grain (the pattern that runs along the short side of a board)
Most people opt for cutting boards made entirely from the end grain. These are usually the thickest and the most durable.
3. Antimicrobial Wood
There are types of wood out there, like maple, that have natural antimicrobial properties. Of course, many cutting board manufacturers will coat their boards and blocks with antimicrobial chemical solutions. However, it's always a safe bet to go natural and get a board made of wood that already kills microbes.
4. Price
Price is, by far, the least important aspect of a good wooden board, but it's still a good idea to know the market. The quickest way to sum up the prices of wooden boards is this: regular cutting boards are inexpensive, while thick chopping blocks will cost you extra. It all depends on what you're planning to use the board for.
5. Color
Just like the price, the color of your wooden board isn't really that important, at least in terms of quality. However, it's definitely a fun aspect of wooden boards in general. Each and every wooden board is unique in design and color, so you can have some fun shopping for one.
6. Safety and Toxicity – What wood is safe for cutting boards?
If you want your food to be toxin-free, make sure to get a board made from wood that produces natural foods. So, any tree that produces nuts, syrups, or fruit naturally is a win.
7. Renewable Resources
When it comes to making cutting boards, trees like maple are renewable. In other words, they can grow faster than other trees and are ready to use in shorter amounts of time. Getting a product from a renewable source is always a bonus.
8. Style and Shape
The style and the shape of the board seem like they aren't an important aspect of the cutting board. However, that's not entirely true. Some board shapes work better with different countertops or tables. For example, there are cutting boards with tiny wooden legs. These are great for easy cleaning after you're done with the chopping. Then there are butcher blocks with long legs. They are perfect if you have some extra space in the kitchen.
The shape and size of the board also matter. Small boards are great for everyday use. On the other hand, large boards are fantastic for carving big birds or chopping vegetables for party-sized salads.
9.  Hardness
Hardness is, by far, the most important aspect of a wooden board. The wood we use needs to rank high on the Janka scale, which is measured in pounds-per-force. A hardwood board doesn't splinter, dent, or scratch, and no knives will leave any chinks on the surface. Moreover, it's durable, so you won't worry about replacing it any time soon.
Now that we've covered everything that a good wood cutting board must have, let's go over the list of the best types of wood out there.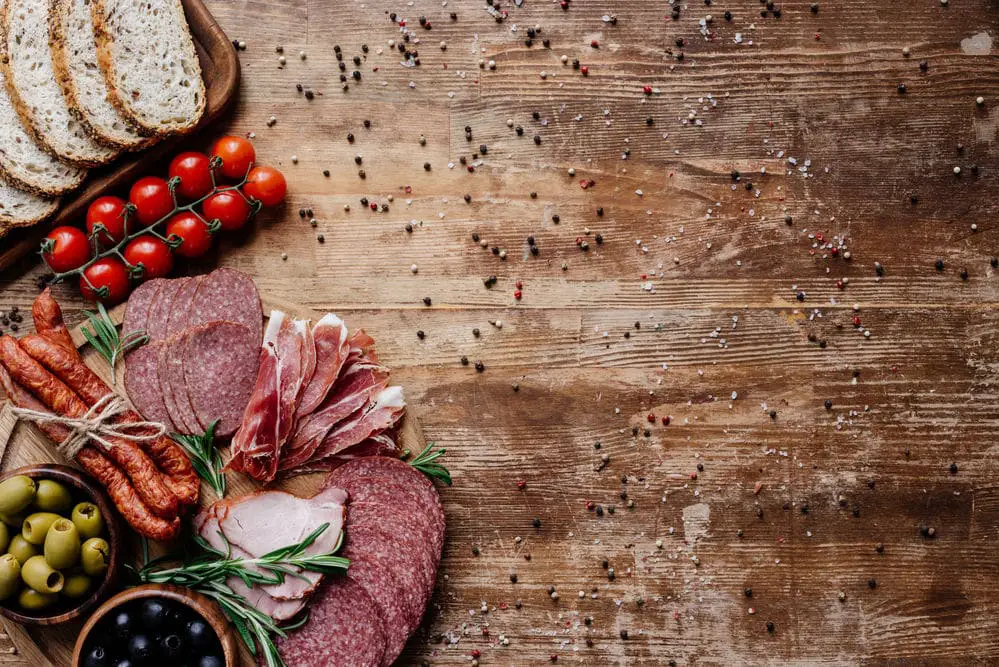 Maple
It's no surprise that maple is at the top of any wooden cutting board list. Not only is it a hardwood, but it's also very 'neutral' when it comes to the color and pattern. You can literally use a maple board in any kitchen, and it won't stand out. More importantly, it's a type of wood that's common, as well as renewable, and it's not as expensive as other options out there. Pro-tip: if you can, always get a sugar maple board.
Cherry
A cherry tree is not as durable as maple, that much is true. However, it's by no means soft or porous. Also, you will love the patterns that cherry wood has. They can be breathtaking, which is not a word you often hear in relation to kitchenware. It's also important to note that cherry is a fruit, so you get a natural material that isn't toxic.
Beech
Beech is very similar to maple, though it does soak up more liquid, and it stains more frequently, so it will require conditioning. That doesn't discredit beech boards from being hard, durable, and inexpensive. Quite a few boards on the market are made from beech, and they're a perfect go-to option for beginner chefs. Interestingly, the more a beech board ages, the redder it naturally becomes, which is a trait not many boards have.
Walnut
Once again, we have wood that comes from a tree that bears edible yields, in this case, walnuts. One thing that makes walnut boards stand out is that they don't tend to shrink as much as, for example, maple or beech. However, walnut does have medium-sized pores, which allow more liquid to penetrate it. Also, since it's softer than maple, it is more prone to cuts and clefts.
Still, it does have one massive advantage over other wooden boards. Walnut is very dark, and it looks stunning when you place it in any kitchen. However, because of its color and design, a walnut board can be a bit pricier than other wooden boards out there.
Teak
Teak doesn't work as well as other types of wood on this list. For example, it soaks up more liquid and is softer when compared to beech or maple. It might not dull your blade, but the knife will definitely make marks on it. Luckily, you might not even see these marks thanks to teak's unique orange-brown color. Interestingly, teak boards cost the most out of all the wooden boards mentioned on this list.
Finding the best wood cutting boards
Bellemain Extra Thick Acacia Wood Cutting/Serving Board Review
Check Price at Amazon
We like the fact that you can chop meat, fruits, and vegetables without the run-off spilling out and making a big mess. Deep grooves present in along the edges collect the spill-off and prevent them from flowing out.
The Bellemain cutting board is crafted from Acacia wood and features a deep and dark finish. Sourced from sustainably-managed forests, you can also be relieved of the fact that this piece of wood reduced damage to the environment. The wood is sturdy and bacterial resistant. This chopping board is 1.5m thick, which is good enough to withstand heavy pounding and chopping without splitting or chipping.
Bellemain also offers a lifetime warranty, which means the brand is quite sure of its advanced design and durability.
The Pros
Sits evenly on the counter regardless of the side its laid on
Sturdy enough to handle daily chopping, dicing and cutting
Life-time warranty
The Cons
Some serving boards have unsanded edges in some of the juice channel
Large End Grain Teak Wood Cutting Board Review
Check Price at Amazon
This Sonder cutting board is end-grain constructed and has an artisanal design. The usp of this board is the well-crafted design that allows the knife to goes between the wood fibers instead of cutting through it. These fibers then close up after the knife cuts. The manufacturer also claims that this motion keeps the knives edge sharper for longer.
Like any good cutting board, this Sonder model also features a built-in groove to catch the excess liquid that oozes out during food pre. It holds up to 3 ounces of liquid which ensures no fluid flows on your countertop.
A feature we would like to highlight is three built-in compartments created to store your diced onions, tomatoes, olives, etc. They can also be used as a charcuterie board. The cutting board is stable on any surface because of its removable rubber feet. Serving is also not an issue as the inner handles allow for easy carrying.
This cutting board is made with teak wood which is rich in natural oils, resistant to excess moisture and less prone to staining and scarring compared to other woods. Teak is strong enough to withstand continuous usage, but not so that it damages your knives edge. We would suggest that you periodically rub Mineral Oil over the surface of the board to prolong its natural color and moisture.
The board comes in a beautifully packed box, so if you want to gift it, you might not have to go through the hassle of finding proper packaging.
The Pros
Comes in beautiful packaging making it great for gifting purposes
Grooves can hold 3 ounces of liquid
3 built in compartments can be very helpful during the food prep process
Removable rubber feet are present on both sides of the board
Comes in a beautiful box
The Cons
YeY! there's nothing much to complain.
Large Reversible Multipurpose Thick Acacia Wood Cutting Board Review
Check Price at Amazon
This Sonder cutting board is crafted out of eco-friendly acacia wood and has been certified by the Forest Stewardship Council. Sonder is big on sustainability, and while purchasing this board, you can be sure that this board has created minimal impact on the environment.
This board is 1.5" thick which makes it's sturdy and adds to its durability. One side of the board features a deep groove that catches the excess liquid that inevitably presents itself during food prep.
Apart from the groove, there is also a recessed channel that is a good space to store your bread, crackers, chips and more. These features make it a good charcuterie board for cheese and meats. Serving is also made easy with the finger holds present on the sides.
The board has dimensions of 16x12x1.5, which is good enough for most of a household's meat cutting needs. The board weighs 6.5 pounds, which means it will not be heavy to carry even with food on top. Like other Sonder boards, this board comes packed in a beautiful box, making it an excellent gifting option.
The Pros
Three-in-one board as it can handle chopping, carving and serving
Deep groove with a built-in well to hold crackers, cheese and more
Side handles allow for good grip and easy transportation
Comes with an insert cart with care instructions
Comes in a beautiful box
The Cons
The color of the cutting board side gets lighter with use. So you will have to apply mineral oil regularly for TLC.
MAHOGANY Large Thick Wood Cutting Board with Juice Drip Groove Review
Check Price at Amazon
This Shumaru cutting board is crafted out of a single piece of Mahogany wood. Made from a single piece of wood, this cutting board is gentle on your knife and food. Shumaru also claims that the board is 100% organic as the raw materials are harvested from a sustainable plantation. In this day and age, such practices are a welcome change than constant exploitation.
One side of the chopping board consists of a cutting surface with a drip groove to hold the juices that ooze when prepping food. You can use the other side to cut bread and cheeses or repurpose it as a serving board. As with other cutting boards, the inner side handles make it easy to serve with the board.
The board has a large surface area with a dimension of 17.5×11.8×1.1, although the brand offers smaller sizes. We found the cutting board to have a smooth cutting surface that was gentle on sharp knives. For its price and durability, we found it to be a good option for housewarming, wedding or unique holiday gifts.
This board also comes with a money-back guarantee in case you change your mind. We found this to be a sturdy and stylish board that is a good value for money. To prolong the life of the board, we recommend that you use olive oil on the surface of the board periodically. Sonder advises against soaking the board in water or washing it using a dishwasher.
The Pros
Beautiful, wood-grain finish
Not too heavy
Affordable priced
Made from a single Mahogany piece, this board is made by craftsmen using no glue
100% money-back guarantee
The Cons
Not a con but the board may arrive with a sharp smell which wore off after some usage
Large American Walnut Wood Cutting Board with Cherry/Oak Accents Review
Check Price at Amazon
This Motley chopping board is a long-grain constructed board that is durability, resistant to stains and excess moisture. This cutting board features a reversible design, which means you can use both sides to chop and prep for your meals.
Sonder made a choice not to include a juice groove and go for a modern board with clean lines. The board has a cutting surface of 17 x 13in, which is large enough to meal prep for an average family. At 6.69 pounds, it is not flimsy yet not too heavy to carry. It features a built-in well that can hold chopped veggies and more. Because it can hold crackers and sliced baguettes, it can be used to serve vegetable platters or be used as a charcuterie board for cheeses and meats. The built-in handles help grip the board for easy serving.
This board is crafted out of American Black Walnut with vibrant Cherry and Oak accents. Walnut is known for its durability and strength and allow the blade to work on it without blunting it. However, we've seen that this cutting board eventually shows some knife marks sooner compared to the other boards. So we would recommend that you oil this board regularly to maintain its finish.
Like other Sonder cutting boards, this board comes packed in a beautiful box. We find this to be an excellent gifting choice for weddings, housewarming or other holiday parties.
The Pros
Each board is finished with 100% food-grade mineral oil
Modern design with a large chopping surface
Built-in well to hold crackers, cheese and meats
Good value for money
The Cons
This board does not feature a juice groove
Needs to rubbed with mineral oil regularly
Maple Cutting Board by Mevell
Check Price at Amazon
The Mevell cutting board uses little colored maple wood that is grained to give a rustic charm to your countertop. You can purchase this board in either walnut or maple material. Like other good cutting boards, the Mevell cutting board has deep juice groves that can prevent liquid from spilling onto the countertop. We found that we could carve a whole chicken or turkey with the juices collecting in the groove.
The manufacturer suggests that the front of the board can be used for carving, chopping and cutting meat while the back of the board is suited for serving, cutting and mincing.
Maple wood is used in the construction which has a self-sealing property s after each cut, which traps bacteria and dries it out. Each board is treated with their in-house mineral oil and wax conditioner before dispatch. This prevents the wood from aging quickly, quick splitting, absorbing moisture easily and gives it an overall stunning finish.
Although the board does not come with a nice packaging box like the other options here, it is still a good value for money. It comes with a card with detailed care instructions on washing, disinfecting, and restoring a damaged surface. It also comes with a money-back guarantee with no questions asked.
The Pros
A tree is planted for every board that is bought
Made from sustainably-sourced wood in Canada
The wood comes pre-oiled which not a lot of boards have
Money-back guarantee
Affordably priced
The Cons
Sizes are quite difficult to find and get sold out pretty quickly when they are in stock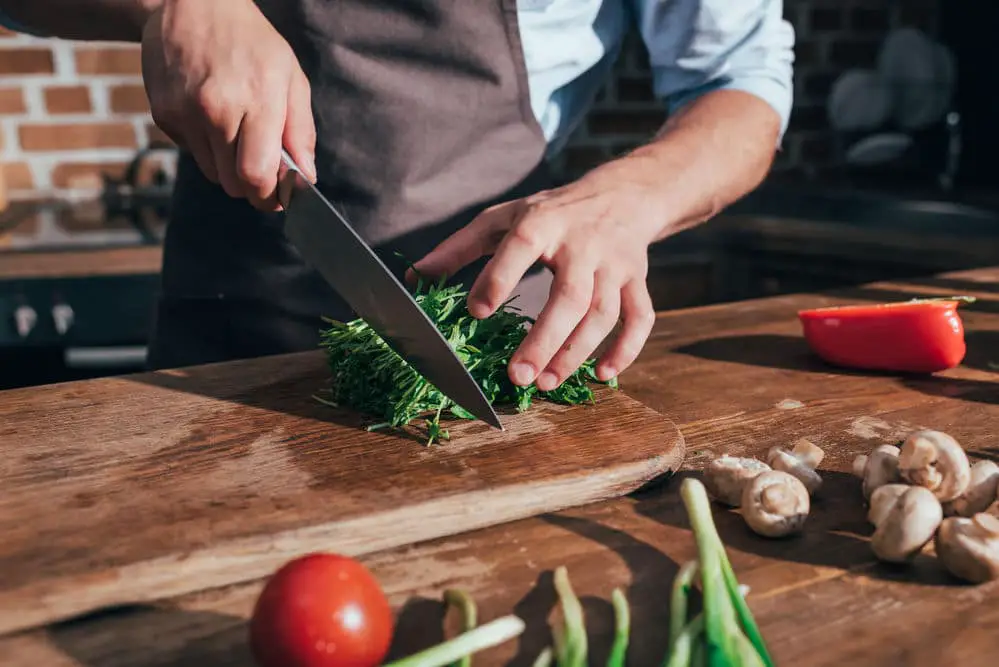 While plastic cutting boards are cheap and can be cleaned in a dishwasher, we are not fans of these models. Plastic does not decompose for decades and its production certainly adds to environmental degradation. We prefer wooden boards as they are naturally antibacterial, are long-lasting and are easy to clean. Of course, wood does need a little TLC to prolong its life but you have to admit, they look very attractive and suit any modern kitchen.
To put it briefly, if you want a modern, no fuss cutting board, Maple Cutting Board by Mevell is a good option. For those wanting more bang for their buck, the Sonder Walnut Wood Cutting Board with Cherry/Oak Accents with reversible sides is our best pick.