We all know cleaning can sometimes be tedious or stressful. Worrying about what products and techniques to use can seem like a full-time job. For this reason, we at times opt for the all-purpose cleaning products or just use one product on all of our kitchen surfaces.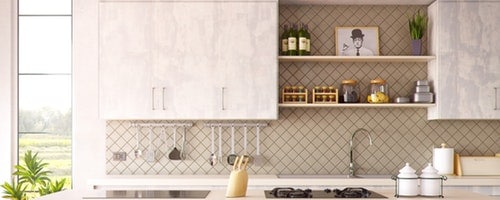 However, what if the products we are using for our oven are damaging the countertops that we've worked so hard on keeping clean? Let's take a look at why this happens and what we can do to prevent it.
Why do we need to clean our oven?
Although cleaning the oven can be a tiresome task, it has to be done. There are two main reasons why we need to do it.
The first reason is the buildup. Different oils and grease that evaporate from food stick to our oven and create a buildup. That buildup, combined with different bacteria from food, will likely damage our oven. Furthermore, a dirty oven can be a potential fire hazard.
The second reason is that a dirty oven can change the way our food tastes. In fact, eating food that was prepared in a dirty oven can be potentially harmful to our health.
What can we do to prevent this? We recommend cleaning your entire oven once a month and cleaning the oven door at least once a week.
All of this cleaning means we need to find some good and reliable products to clean the oven with. We are going to show you the things to avoid and some tips and tricks for making your kitchen spotless!
Why is finding a good oven cleaner so important?
The first reason is the most obvious one. We need a good oven cleaner so we can make sure our oven is cleaned properly and we don't have to go over it more than once.
The next reason why we need a good oven cleaner are the ingredients that are in cleaning products. Most oven cleaners contain ingredients that might be great for the oven — but what about the rest of our kitchen?
The most common ingredient and the potentially most dangerous one is sodium hydroxide. Sodium hydroxide, more commonly known as caustic soda, can be very dangerous if not handled properly.
Some of the issues sodium hydroxide can cause include:
Irritation of skin and eyes
Damage to the lungs and nostrils
Corrosion of certain metals
Paint stripping or discoloration of different materials
Another problem with sodium hydroxide-based products is that most of them are sold as aerosol sprays. Having the product in the form a spray, instead of paste, means we can never completely cover and protect our kitchen from this harmful ingredient. Spraying sodium hydroxide on kitchen countertops can damage them significantly.
The second most common ingredient in oven cleaners is monoethanolamine or ethanol. Monoethanolamine (MEA) is a mixture of ammonia and alcohol. The substance has been known to cause respiratory issues, allergic reactions, and skin irritation. Furthermore, it's been known to cause corrosion of different metals.
What does this all mean and how does it affect our kitchen countertops?
Oven cleaners on kitchen countertops
Now that we know some of the ingredients of oven cleaners, we need to know what happens when they come into contact with our kitchen countertops.
Sodium hydroxide was originally used as a paint stripper. Because it has paint-stripping properties, it shouldn't be used on any surfaces that have been painted or sealed with a clear finish.
Stone countertops
Many stone countertops are coated with a layer of polyurethane, which means they could get damaged if sodium hydroxide was sprayed on them.
In the event of accidentally spraying our stone countertops, we need to act fast. The first step is to immediately wipe down the surface with a cloth. However, to make sure nothing gets damaged, we should wipe the countertops with vinegar. The acidic properties of vinegar, for example, will counter the sodium hydroxide.
Tile countertops
We also need to make sure the sodium hydroxide doesn't get on the grout sealer of our tile countertops. However, there's no need to panic if it does get on. Wiping the surface with vinegar will prevent it from getting damaged.
Aluminum
One more thing to keep in mind is that sodium hydroxide can react when in contact with aluminum. When combined, they release flammable hydrogen gas. Furthermore, sodium hydroxide can permanently alter the color of aluminum.
Vinyl, Corian or Synthetic countertops
The next thing we need to protect our countertops from is monoethanolamine. While it won't strip down the paint, it can cause serious discoloration. Monoethanolamine is particularly harmful to vinyl, Corian or synthetic countertop surfaces.
Wooden countertops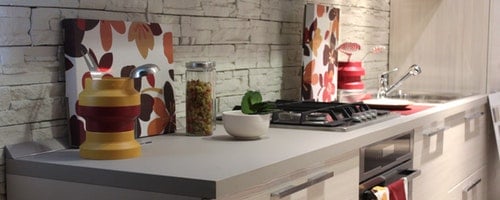 The most vulnerable are the wooden countertops. Most of the damage we can get from spraying oven cleaner is usually a dull finish or discoloration. However, oven sprays can completely ruin our wooden countertops. They can burn the clear finish and seep into the wood. We would need to replace our countertops if this happened.
We know that buying all of these different cleaning products can be very expensive and can seem a bit excessive. However, when it comes to kitchen countertops — always buy the appropriate cleaning products.
Alternatives to commercial oven cleaners
The question now is — what can we use if we don't want to clean our oven with these products? The answer — homemade, natural cleaning products.
We are going to give you some tips and tricks on making the best oven cleaner. Making your own cleaner guarantees a clean oven and protected kitchen countertops.
First, we are going to need some ingredients:
1/2 cup of baking soda
1/2 dish soap
1/4 vinegar
Water
Directions
To start, we are going to combine all of these ingredients until we get a paste-like consistency. Next, using a brush or disposable cloth, we need to apply the mixture inside the oven and leave it. We can leave it in for six to eight hours; however, leaving it overnight will give even better results.
Finally, once the eight hours have passed, we are going to take a wet kitchen cloth or scrubber and clean the paste. This cleaning product is inexpensive and isn't harmful in any way. Moreover, it gives great results, and it won't affect our countertops.
Another great trick is steaming the oven. All we need is half a cup of water and half a cup of vinegar. We place the water and vinegar in an oven-safe container for 30 minutes at 250°Fahrenheit (120°Celsius). Once the 30 minutes have passed, we just take a washcloth or sponge and wipe down the inside of the oven.
The final tip we have is great for all of those greasy, hard-to-clean parts of the oven. First, we need to mix three tablespoons of baking soda and a quarter of a cup of water. Next, we apply it to the oven and let it sit for 20 minutes. When the 20 minutes have passed, we wipe the oven down with a wet cloth.
Alternatives to commercial kitchen countertop cleaners
Now that we know what can damage our countertops, what can we do to protect them? As we've mentioned before, using cleaning products that were specifically designed for kitchen countertops is a must.
With that being said, some of the products on the market can still have dangerous chemicals in them that can be potentially harmful to us. Therefore, why not try and make a countertop cleaner that is both effective and cheap?
The ingredients used for making a kitchen countertop cleaner are similar to the ones we used for cleaning the oven:
1 cup of distilled white vinegar
1 cup of water
6 drops of essential oil (grapefruit or tea tree oil both work great)
All we need to do is put all of the ingredients in a spray bottle and clean where needed with a wet washcloth. Vinegar works great as a disinfectant and it won't harm any of our kitchen countertops. Moreover, tea tree oil has antibacterial properties and helps mask the smell of vinegar.
Final Thoughts
Keeping our kitchens clean can sometimes feel like a full-time job. As a result, we don't always pay attention to the cleaning products we are using. Buying "multi-purpose" products for cleaning might seem like a great idea; however, the reality is much different.
Oven cleaners contain ingredients that can potentially be harmful to our kitchen countertops and to us as well. Most of the common oven cleaning products contain sodium dioxide and monoethanolamine, which can cause discoloration or even the strip paint from our countertops.
We shouldn't have to choose between having a clean oven and shiny countertops. We would definitely recommend making your own cleaning products. They are both safe to use and inexpensive. We can make them using only a few ingredients, and they are as effective as any of the store-bought products.
There are many benefits and almost no downsides to using home-made products. With the tips and trick you've learned here, your kitchen will be spotless, and you won't have to worry about your countertops ever again.