Countertop convection oven is amazing as it doesn't take a lot of space in the kitchen and powerful as regular ovens. wait…Ok, we know you don't have time to hear our life story with ovens, so let's go straight into the convection oven reviews.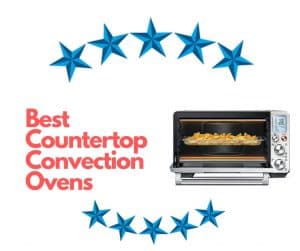 This in-depth analysis of each oven will help you understand it better before buying one.
Top 5 Best countertop convection Ovens
The Wolf brand has managed to build its own reputation in the market. So, we weren't expecting anything short of perfection from their countertop oven. Fortunately, we were not disappointed.
This gourmet countertop oven supports a total of SIX cooking styles — baking, roasting, broiling, warming, proofing, and toasting. Whether it's fresh cake or roast chicken, this oven can handle it all. That makes it convenient enough to use for all our daily cooking needs.
Plus, this oven can reduce cooking time by up to 25%! How? It has an advanced convection fan which ensures proper heat circulation inside the oven. As a result, it cooks the food in less time and ensures even cooking without any hot spots too.
In addition, its advanced electronics will make sure the temperature inside the oven is consistent. So, we won't have to worry about a cake that is partially baked to perfection and partially burnt any more.
It also comes with an integrated temperature probe, which means you won't have to keep opening the oven to check if your food is cooked. All you need to do is keep an eye on the LCD display where the probe temperature shows.
Further, one of the most common problems with countertop ovens is that they usually don't offer much flexibility in rack placement. However, the manufacturers of this particular oven took care of that problem by introducing a unique smooth-gliding rack feature. So, we can place dishes safely (without worrying about getting our hands burned) and reposition them as required.
Speaking of dishes, the oven fits 9×13" stoneware dishes which is large enough to fit a 5 ½ pound chicken. Plus, its interior is non-stick, and the stainless steel tray is dishwasher-safe, which makes the cleaning process easier.
Now, here is a list of its pros and cons which should help you decide whether you need this oven.
Pros:
First of all, the oven is made of stainless steel, so there is no need to worry about corrosion.
Further, it takes less time to cook and provides a consistent temperature inside, so the dish comes out evenly cooked. The integrated temperature probe reduces the need to open the oven every little while, too. Plus, its smooth-gliding rack makes it easy to reposition the dish whenever necessary.
Cons:
Unfortunately, it's quite expensive. However, it's evident that you'll be paying more for better quality and that's something we don't mind.
Also, the oven doesn't have interior lights, which makes it difficult to check on the food from the outside.
Finally, although toasting is one of the modes of cooking that it supports, it does take some time to toast to perfection. So, if you're looking for a countertop oven to replace your toaster, we wouldn't recommend this one.
The Smart Oven Air offers THIRTEEN smart cooking functions including air frying and dehydrating. You can use this oven to proof your dough, bake healthy snacks, bake a cake or even roast a turkey. Basically, it's the ideal addition to your kitchen worktop. With this, you'll no longer need a separate dehydrator or air fryer. By the way, it can hold up to four trays for dehydrating.
Moreover, it has a fairly large capacity that's just enough for a family. For instance, it can support a 14-lb turkey (so your Thanksgiving dilemma is sorted!) and hold a 12-cup muffin tray. It comes in two sizes — the mini smart oven and the compact smart oven. The former can cook enough food for up to 2 people, and the latter can cook food for about 4.
In addition, its super convection technology includes two convection fans (Super and Regular) which give the user better control over the heat. Plus, this technology ensures faster heat circulation, which can reduce the cooking time by up to 30%. We've tried making bagels, pizzas and even baked cookies and they're all turned out absolutely delicious.
Also, you know how sometimes when you bake a dish, one half of it turns out nicely but the other half is roasted and nearly inedible? Well, with this oven, that is no longer a concern! It utilizes a smart feature called Element iQ which will transfer the heat to where it's most needed.
Further, this smart oven is something anyone can use. The LCD display allows you to choose from 13 available cooking functions and it comes with an integrated oven light. You can even switch it on whenever you want, which means you won't have to keep opening the oven door to check if the dish is ready.
Since every product has its own flaws, let's wrap up this review with this one's pros and cons.
Pros:
It's user-friendly and smart enough to detect the areas that require extra heat when cooking. That's definitely a benefit because the food cooked in toaster ovens often turns out unevenly cooked.
What's more, you can cook, fry, bake and even proof dough using and that's pretty awesome for an oven that's only about 40 pounds. Plus it's made of stainless steel so you can expect it to last for a really long time.
Cons:
While air frying is definitely an added advantage, we wouldn't recommend buying this oven solely for that purpose. After all, it is an oven and not an air fryer so it does come with a few limitations.
Plus, this oven is on the higher end of the price scale. But, if you're willing to pay a few extra dollars for better quality, this shouldn't be a problem.
First of all, wow. The color of the oven is outstanding and instantly uplifts any interior.
This countertop convection oven comes with the following 10 pre-set cooking functions:
Toast (holds 6 slices of bread)
Bagel
Bake
Roast
Broil
Pizza
Cookies
Reheat
Warm
Slow cook
In case you run out of patience to wait around until the slow-cooking is over, don't worry. This oven automatically switches to "Warm" after the slow cook process is over.
Further, its special iQ-5 heating technology ensures that the heat is moved to where it is most needed. So you'll no longer have to worry about food that is unevenly cooked. Plus, it has an inbuilt fan that circulates heat within the oven, which makes the cooking process faster and more efficient.
Also, one of the most common flaws we find in toaster ovens is the lack of interior lighting. This one, however, has a bright interior light which allows you to keep an eye on the food as it cooks. That means you won't have to keep opening the oven every little while. If you're someone who bakes frequently, you should know that letting too much air into the oven can affect the cooking process.
Finally, this cranberry red oven is light, affordable and is made of stainless steel. That means it's corrosion-resistant and should last a really long time. In addition, its smooth surface makes cleaning up an easy process. Of course, if you leave the dirt on for too long, it could result in a build-up and that might require extra effort to clean.
The only thing is it's quite small. So, if you have a large family, this wouldn't be a practical investment. But, if you are a family of two or you live alone, this might come in really handy.
Nevertheless, here is a list of its pros and cons. Knowing them should help you make a well-informed decision.
Pros:
It's super compact, so you won't have to worry about space! Plus, it makes an amazing addition to your kitchen appliances, considering how versatile it can be.
It is also perfect for making quick meals because of how fast it cooks. So, if you're in the mood for home-made pizza, you can have home-made pizza in a couple of minutes! (As long as you have instant dough, otherwise, don't forget to let the yeast do its job)
Finally, the interior light is definitely another advantage. It may sound unnecessary, but it's always easier when you can keep an eye on the food while it's cooking.
Cons:
Unfortunately, you won't be able to toast more than 6 slices of bread with this oven. Anything you make with it can feed only about 2 people unless you're willing to cook in batches. Therefore, the oven's size is a major disadvantage. Also, you might have to buy new oven trays because all the big ones won't fit.
Black+Decker is a well-known brand in the kitchen equipment market. So, we weren't expecting anything short of high quality from this countertop oven. Unfortunately, it did not quite meet our expectations nor was it a complete disappointment.
If you're looking for a countertop oven that isn't very expensive but does a good job with the basic features, then this one's ideal.
Its convection heating technology allows for better heat circulation within the oven. So, it takes 20% less time to cook than Black+Decker's previous models. It also automatically switches off at the time you specify, so you won't have to worry about your food getting overcooked.
Plus, it is quite user-friendly, because the digital controls allow you to choose the temperature you want and a cooking function. The available functions are:
Bake
Broil
Toast
Bagel
Reheat
Pizza
Frozen snacks
We think those functions are perfect for daily use. As for capacity, this oven can hold a 12" pizza and 6 slices of bread. Also, the maximum temperature allowed is 400 degrees, but that shouldn't be a problem because the convection heating will make sure the food gets cooked fast anyway.
You can also choose between the dual rack and three rack positions to suit your needs. The three rack positions would be a better option for you if you bake a lot of cookies and muffins. But, if you're only looking for an oven to bake pastries and pizzas, the dual rack positions would be good enough. It is also cheaper than the three rack positions.
Finally, the oven is made of stainless steel, which means it should last longer. So, as we said,it may not have too much to offer, but it still does a great job as an oven. Here's a quick list of its pros and cons:
Pros:
It's quite affordable and serves its purpose. Plus it also comes with a 2-year warranty, which makes it a pretty good deal.
Further, this oven doesn't take too long to cook food and has a wide range of cooking options to choose from. It is also small enough to use and put away, and if you're a minimalist, you're definitely going to love that.
Cons:
Cleaning the oven is quite hard, especially because of the meta tray where food remnants get stuck. Also, the wording on the control seems to wear out quite fast. So, unless you're good at remembering things, that's going to be a problem!
HomeLabs has always produced high-quality kitchen equipment, but this oven has to be among its top products. We'll tell you why.
To start off, it comes with an additional stainless steel toaster (which is quite easy to clean), a broiler rack, bakeware pan, and a removable crumb tray. That's definitely a great bargain, we would say.
Also, this oven features flexible rack positions, so you can place the tray any way you want based on the dish you're preparing. For instance, cakes usually bake best in the center, but chicken cooks best when it is placed at the bottom. Yes! You can use this oven to roast an entire chicken as well! In fact, it supports 10 different cooking functions, including broiling.
Moreover, its convection heating technology makes sure the heat inside the oven is circulated evenly. That means you won't have to worry about a cake that's half burnt and half perfect anymore. At the same time, this method of cooking will also trap the flavor of the food which is definitely a great thing.
Even using this oven doesn't require too much effort. Whether you're a grandma who is used to the old-fashioned fire ovens or someone who is just learning how to cook, you'll be able to use this oven with ease. It comes with an LCD display control where you can adjust the temperature anywhere below 450 degrees.
Further, although the oven doesn't have the option to automatically switch off, it has a buzzer that will sound three times. It also comes with interior lighting and a clear glass window, so you can keep an eye on your food without having to open the oven too much.
That should mean good news for those of you who always forget to preheat the oven. This one doesn't even require preheating, all you need to do is choose the right function, and the oven will do its job. After you're done, you can remove the crumb tray (which is where all the crumbs fall) and clean it up. That should make sure the oven last for a long time too.
As you can see, we were very happy with this countertop oven. We'd recommend it to anyone, considering it's also quite affordable. Here is a quick summary of its pros and cons.
Pros:
It provides a lot of features for the price you pay. Plus, it also comes with the accessories required to toast and roast a good chicken.
Further, the convection heating technology works really well in this oven, making it efficient in terms of both energy and time. It is also quite easy to clean, unlike most other countertop ovens.
Cons:
The oven can only cook enough food for a maximum of 3 people, so if you have a large family, this could be a problem.
Also, the exterior tends to get really hot when food is cooking. That isn't a very significant con, but it's worth mentioning, especially if you have kids at home.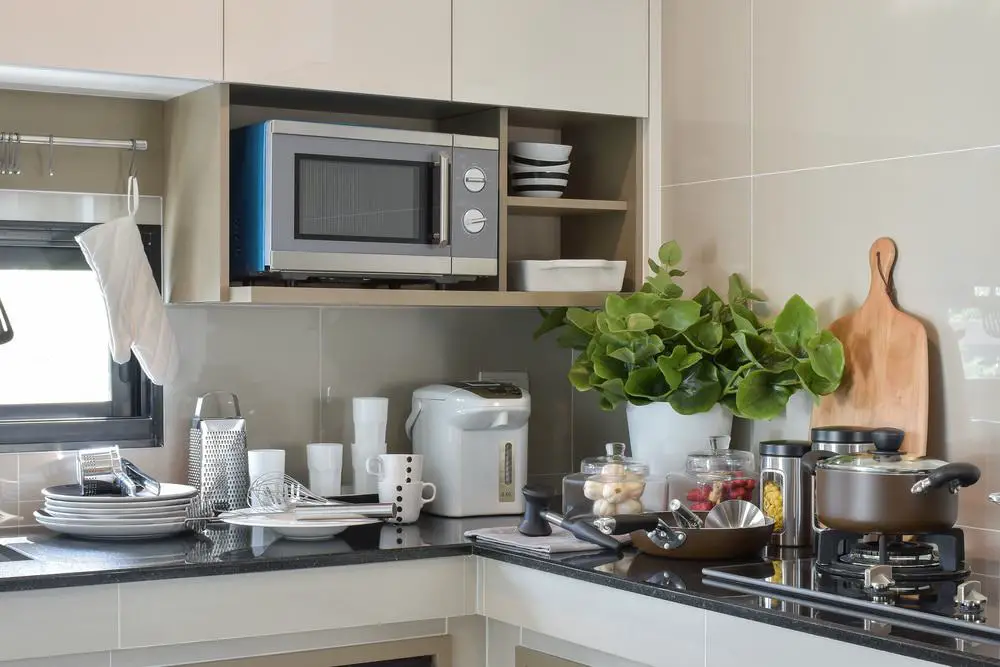 Conclusion
We've listed the best ovens to buy from the market with price and value for money. We really hope it helped you. Thanks