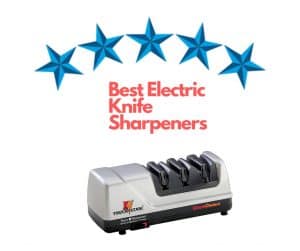 Yes. Everyone knows "manual sharpening" is the best. But let's face it; you are not skilled enough yet and blunt knives can be a big turn off. And, you know that the hardest part is throwing them in the bin. Even newly purchased sharp knives get dumpster ready after a few months of use.
So, how do you fix this ever-prevailing kitchen nuisance? Let's meet the best electric knife sharpeners that can come to your immediate rescue.
For those who don't know, electric knife sharpeners can breathe new life into your old lackluster knives within a matter of few minutes or seconds. There's no easier, quicker, safer, and smarter way to sharpen a knife in today's age and time.
Top 5 Best Electric Knife Sharpeners Reviews
Chef'sChoice 15 Trizor XV Review
A half hour manual task with stones would be a one-minute affair, with better results with the aid of this knife sharpener. Very few electric sharpening machines out there can refine a blade as good as this tool.
Keep in mind that the product has been in the market for nearly a decade now. So, the knife sharpener does enjoy unmatched credibility in the market. As long as you take the time to read the easy-to-follow directions, you will find it a breeze to operate this tool, and you will get mind-blowing results too. As hinted earlier, the end result is equivalent to a job done by an expert knife sharpening professional.
All your knives will be like razors in few minutes with no laboring involved in the process. So, is this knife sharpener 100% perfect? Absolutely not! Let's get to the pros and cons to know more about this electric knife sharpener.
Pros:
The sharpener is pre-set at 15-degree angle, and it has 3-Stage EdgeSelect sharpening system to deliver astonishing results like nothing else in the market. Moreover, the motor on this thing is tough. From gentle filet knives to hefty chef knives, you will be able to sharpen everything with this smartly designed tool.
This sharpener is a well-made version of its competition. In fact, the Chef'sChoice 15 Trizor XV knife sharpener can put most of its competition to shame.Also, Chef'sChoice backs the knifesharpener with a limited 3-year warranty.
This sharpener leaves behind less mess than its rivals. It features a removable internal magnet to accumulate the steel dust. Kudos to the makers of this sharpening tool for paying attention to the details.
It's a joy to use this sharpener. It will force you to look around your house for old knives. Not to forget the fact that you won't have to muscle your way to use this sharpener. Once powered, it works pretty much on its own. Not to forget the enormous time saved in the process.
Cons:
Just like any other electric sharpener out there, some degree of learning curve would be involved over here to figure out the exact number of times you need to pass the blade across the tool for the perfect sharpness.
This sharpener may not be for everyone out there because of its cost. That said, the quality of this sharpener is in line with other high-end products in the same spectrum. If you take proper care of the Chef'sChoice's sharpener, you will perhaps never ever buy another knife in your lifetime.
Wusthof PEtec Electric Sharpener Review
Say goodbye to dull blades with this highly-rated Wusthof PEtec Electric Sharpener. It works well with Wusthof knives and other brands too, all with equal success. So, you can run almost all brands of knives through this sharpener. For 100% efficiency and optimum sharpening, the product features a three-stage sharpening system—sharpening stage, polishing stage, and honing stage. The end result illustrates that this system works like a charm.
The best thing about this sharpener is that it's wicked sharp. It produces the sharpest edge possible. It can turn your knives razor shape, and even better than what they were five years ago. Simply put, your old knives will operate like brand new ones. Even if you don't know a thing about knife sharpening, you will be able to operate this electric tool with great ease like a pro. If this electric sharpener fits your budget, you shouldn't be looking for anything more 'costly' or 'better' than this one.
Pros:
Using this electric sharpener is almost a child's play. Also, the sharpener can be used on several different types/brands of knives without any fuss. In fact, you can sharpen serrated knives too with this electric knife sharpener.
It works on 110-volt power, which is sufficient enough for the intended job to deliver 'wow' results. In less than two odd minutes, your knife will be reborn with new sharpness like never before.
The product will surely make you forget the painstaking old days of sharpening the knives by hand. Although it's a bit pricey, it's worth every penny. You will probably never invest on another knife during your entire time on planet Earth.
This product is all over the place (for the right reasons). So far, the sharpener has received a ton of shining reviews. There could be nothing more intimidating for the rivals than researching this product and witnessing its never-ending popularity.
The sharpener comes with a solid three-year warranty, for home use only. Given the generous product warranty, the sharpener should be a no-brainer choice for knives in dire need of precision sharpening.
Cons:
According to the makers, this electric sharpener is not dishwasher safe.  To avoid a 'my life sucks' moment, it's advisable to stick to the manufacturer's cleaning guideline.
The sharpener is somewhat noisy. These minor knocks aside, the Wusthof PEtec Electric Sharpener is indeed a keeper. Frankly speaking, you won't find an identical twin that could do the job as good as this one.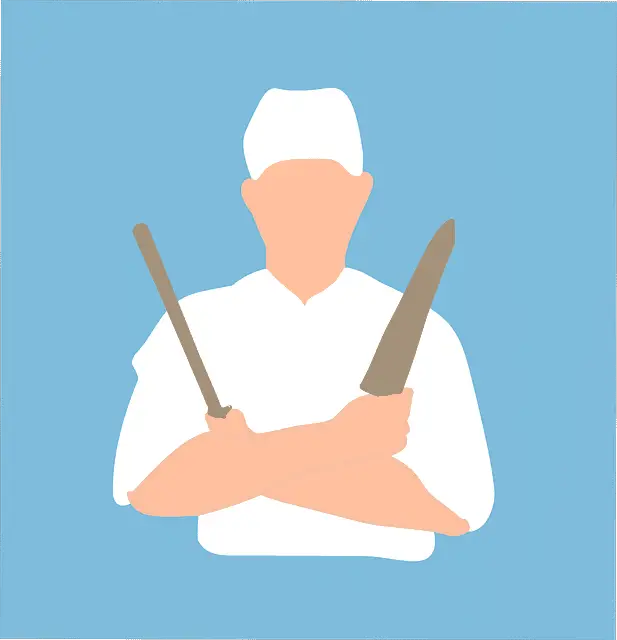 LINKYO Electric Knife Sharpener Review
If you are tired of sharpening your knives on a wet stone, it's time for an upgrade. The LINKYO electric knife sharpener should be a perfect fit over here. This bad boy will leave you with fabulously sharp knives without the usual elbow grease involved with manual knife sharpening. It works by spinning the stones at high speed to get the intended job done within seconds/minutes.
Even your age-old knives will start cutting objects like a hot knife used on butter. Frankly speaking, the sharpener will pay for itself in no time. You will be able to sharpen almost every knife in your house in less than ten minutes.
Above all, no prior knowledge is needed to operate this electric sharpener. You simply turn it on, pass the blade through the tool a few times, and boom. You have sharp knives! Of course, this isn't to say that the tool will turn your grandmother's old kitchen knifeto a razor-sharp Japanese steel samurai sword, but the sharpener does exactly what it says.
Your knives will be sharper than before without you throwing an arm and a leg. For those who don't know, it has two separate slots for smoothing and sharpening. Overall, it's a delight to sharpen a knife on an affordable product of this quality.
Pros:
This inexpensive sharpener is a cut above the scope. It automatically aligns the knife in proper angles to deliver the best possible results. The two-stage process keeps the knife sharpened as well as polished. As a result, the blade ends up looking neat and shiny.
Unlike the competition, this tool can sharpen the entire length of the blade without any hiccups. Each side of the blade will take less than a minute. As hinted earlier, the sharpener is fast and easy to use too.
For the low asking price, you are getting a sharpener with a good enough motor. From the little pocket knife to the longest knife in the kitchen, you can sharpen almost anything with this LINKYO electric knife sharpener.
The sharpener is quieter than its rivals. This isn't to say that it doesn't make any noise at all. But, the sound volume is relatively less compared to many of its counterparts (some of them make ear-deafening noise).
It's small and not a space taking commodity. You can easily let it sit on the cabinet until it's required again. Overall, you are bound to have good years with this little guy. The sharpener is indeed a people-pleaser.
Cons:
This sharpener makes use of grinding stones to sharpen knives. As a result, you might lose a tad bit of blade on each occasion. That said, it will take decades to dissolve the blade to nothing. So, you don't have to fry your brain over this thing.
The sharpener is damn sharp. Therefore, no half-asleep person should be using it. After all, injured fingers are not a good sight to witness. By no means, this should be viewed as a negative thing because it's not the sharpener's fault.
Mcgowan Diamondstone Review
Moreover, the instructions that come with the knife sharpener is highly detailed and definitely helpful for first-timers too. Even novice sharpeners should be able to nail it without any trouble by paying heed to the easy-to-read directions. Goes without saying, the more you use the sharpener, the more efficient you get at using it.
Better yet, it sharpens serrated knives too (with insignificant loss of steel). As hinted earlier, the device needs to be used properly and carefully for best results. For instance, one should not apply too much downward pressure on the blade while sharpening because this may cause the device to slow down or halt. Keep in mind that this is intended to be a safety feature and does not imply that the tool is defective.
Pros:
After the first sharpening job,re-sharpening would prove to be an extremely safe, fast, and easy affair. All you need to do is follow the instructions given in the product manual. Basically, the sharpener is easy to use after a tad bit of practice. Better yet, it dispels minimal dust even after sharpening half a dozen knives.
There are users who have been singing praises for the sharpener even after using the product for five plus years. Industry experts also have high regards for this sharpener. It has good speed, power, and high-quality construction to it to last for many years to come. From the durability standpoint, the sharpener clearly scores full marks.
This sharpening tool is priced moderately. You can say that it's not priced too high or too low. In fact, it's a bargain deal because the tool is made in the USA and not imported from a shady shop in Africa. In conclusion, this 120V version sharpening tool can give you the money's worth and a little bit more. It's easily the best knife sharpener device out there for non-professional sharpeners.
Cons:
A quarrel with this electric knife sharpener is the loud noise. It almost sounds like a dentist's drill machine. Other than this minor hiccup, we won't bend on the fact that the product is well-worth the buyer's money.
If you are looking for a knife sharpener with humongous horsepower, you might have to keep looking. For casual home chefs, this device is the end game for them. As mentioned above, it makes some noise. So, just warn your roommates before using it (actually, you will hardly find a quiet electric sharpener).
Chef'sChoice 320 ScissorPro Review
All it takes is a few passes, and the knives will cut unbelievable sharper than before. You can also use the sharpener on your expensive knives without being worried about any cosmetic damage.
The best part is that the learning curve on this knife sharpener is pretty short and simple. Within no time, you will be sharpening blades like an expert. All thanks to the smart product design and detailed instructions. The motor that spins the tool is solid enough to deliver splendid results.
Therefore, we find this sharpener to be a better choice over other expensive units meant to do the same job. There is no way you won't be impressed with performance versus the price paid for the sharpener. This sharpener is a star performer all day long.
Pros:
The sharpener is housed in a compact body. Simply put, it won't eat a lot of counter space at your premises. Plus, the sharpener can be easily stored in a small cabinet. This may not seem like a big plus point, but it does help to minimize kitchen clutter. Therefore, we found it worth mentioning over here.
The Chef'sChoice 3200 ScissorPro Diamond Hone Professional Electric Sharpener helps control the angle while cutting. It also helps users apply the right amount of pressure during the job. Moreover, this knife sharpener is made in the USA. The sharpener has high-quality written all over its body.
Technically speaking, any sharpener out there can sharpen a knife. However, only a few sharpeners out there can do the job beautifully. The makers of this product can take great pride in the fact that this sharpener works beautifully. Therefore, we would recommend this knife sharpener without any reservations.
Cons:
It doesn't have a vacuum to help take care of the metal shavings. Other than this flaw, this sharpener is a clear winner in its class. It can bring all your kitchen knives back to their former glory at a justifiable price tag.
Verdict:
This concludes our countdown of the electric knife sharpeners. There is no way you could end up with buyer's remorse by choosing these sharpeners. These five contenders really nail it. As a consumer, you will surely get your hard-earned money's worth and some more.
No sharpener out there is 100% flawless. but compared to the competition, these sharpeners really good. They might not be able to do a lot of things, but they will do one thing very well—sharpen your knives like nobody's business.