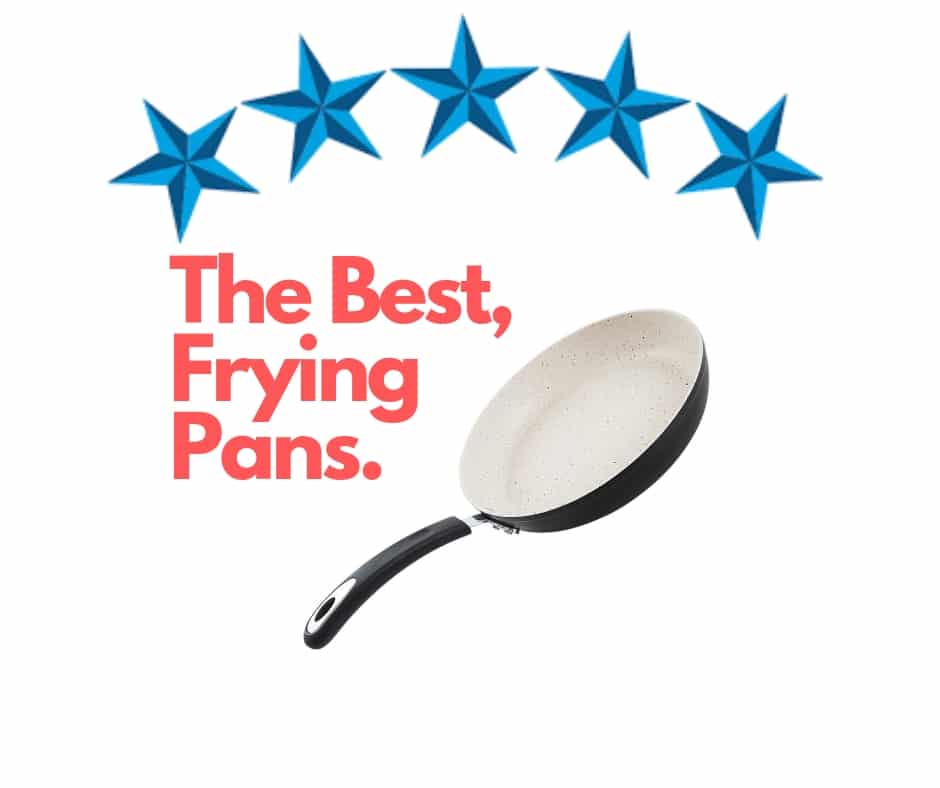 A frying pan is good for use of minimal oil. You can fry almost anything on it. Eggs, fish, meat, veggies and you name it. You just need enough oil to cover the pan and that's it.
Compared to a wok, it can't take higher heat. It works on lower heat. That's exactly how you're supposed to use a frying pan to make sure the food is not overcooked.
Even if you don't cook, you can gift it to him/her. There are many frying techniques you can try.
Now you know the basics, what are the best frying pans or skillets you can buy? there are an overwhelming number of choices when it comes to frying pans.
But no worries!. We have selected the best frying pans you should get. as a side note, if you want to go completely oil-less cooking, get an air fryer.
Top 5 Best Frying Pans Reviews
Lodge is a well-known cookware manufacturer whose cast iron skillets are some of the most famous in the world. And L8SK3 is no exception.
The L8SK3 is Lodge's latest addition, and it's an improved version of the original Lodge cast iron pan. Unlike the original, the L8SK3 has a helper handle on the opposite side of the long handle. Now let's see what some of its other features are.
Appearance
When compared to some of the other frying pans on the market, Lodge L8SK3 is quite heavy. It weighs 5.6 pounds, so it definitely requires a lot of strength. However, all cast iron skillets are heavy, and there's no going around that.
Also, we're talking about the big 10.25-inch skillet here, so it's no wonder that it weighs so much.
As far as handles are concerned, this pan has a 4.81-inch handle on one side, and a small helper handle on the other. Moreover, it has two pouring lips on both sides.
Coating
The L8SK3 is a pre-seasoned pan. That means that it's coated with a thin layer of non-stick substance (in this case vegetable oil). That also means you don't have to grease it up before frying.
Still, we suggest you lightly grease it with oil before frying protein-based foods (such as meat or cheese) since they're more likely to stick to the pan.
But the best thing about this oil coating is that it gets more flavourful every time you use the skillet. In other words — this pan just keeps getting better and better with age.
Heat Distribution and Retention
As we all know, cast iron has great heat retention properties, and so does the L8SK3. It can keep the food warm for a very long time. In addition, this skillet also distributes heat very well. That's why it's absolutely perfect for cooking steaks.
Longevity
Cast iron skillets can last you a lifetime. They are heavy, but they're also very strong and durable. Whether you use it in your oven, on top of your stove, or above the campfire, a cast iron skillet simply won't age.
Conclusion
The L8SK3 is a pan that everyone should have in their home, no matter if they're a rookie or a professional chef. And because it's great at heat distribution and retention, it can be used in almost every way imaginable — for slow-cooking, frying, roasting, broiling, baking, and so on.
This tough aluminum-coated pan from Calphalon is easily one of the best frying pans on the market. Although it doesn't have as many useful features as the L8SK3, such as the extra handle and pouring lips, it's still an amazing piece of cookware. Let's see what it's all about.
Appearance
Much like the aforementioned L8SK3, this Calphalon pan also weighs 5.6 pounds. As far as size is concerned, this cookware comes in two variations — 10 and 12 inches.
The pan has a heavy gauge aluminum construction. In addition, it's hard-anodized, which makes it practically indestructible. It also has a stay-cool stainless steel handle and rounded edges for easier tossing.
Coating
What makes this pan non-stick is actually not one, but three layers of protective coating. This feature allows for an easy and quick cleanup.
Because it's anodized and has multiple layers of coating, this pan is completely dishwasher-safe. Unfortunately, this option is not very common when it comes to commercial-grade non-stick pans.
Heat Distribution and Retention
Cast iron skillets famously have the best heat retention and distribution properties, but this Calphalon aluminum pan is a close second. It can handle a lot of heat at once, which makes it perfect for cooking steaks, grilling, and frying. And not just that — its aluminum base makes for a perfectly even cook, without any brown spots.
Longevity
The fact that this pan comes with a lifetime warranty from Calphalon is just one of many clues pointing to its durability and longevity. As we said previously, it's hard-anodized, it has a heavy-gauge aluminum construction, and three layers of coating.
If you wash it and store it properly, this pan will surely last you a very long time.
Conclusion
With this amazing contemporary frying pan, cooking has never been easier. Being that it has as many as three layers of non-stick coating, it doesn't require any greasing beforehand. And that allows you to prepare much healthier meals than you would in a regular non-stick pan.
After cooking, you can simply wipe off the leftover food and grease and put the pan in the dishwasher.
All in all, this pan requires very little effort, which is probably the main reason why it's on this list.
The pan we'll present next is the 80114/535DS, a NSF-certified professional frying pan.Tramontina is a well-known cookware manufacturer that was established way back in 1911. Ever since then, Tramontina has been producing cooking dishes that can appeal to both the professional restaurant chefs and home cooks.
Appearance
In contrast to heavy-duty aluminum or cast iron pans we talked about earlier, this pan is actually very lightweight. Even though it has a diameter of 10 inches, it weighs only 2.7 pounds.
It's made from heavy-gauge aluminum, with a smooth satin-like finish on the outside. It simply looks elegant and up to par with the pans that professional chefs use.
Much like the previous pan from the list, this Tramontina pan doesn't have a helper handle nor the pouring lips. It does have a stainless steel handle, though, as well as a detachable silicone grip. The grip gives you better control of the handle, and it can also prevent you from burning yourself.
Coating
The Tramontina pan has a reinforced, PFOA-free, three-layer coating that prevents food from sticking. It also provides an effortless cleanup, as you can freely put it in the dishwashing machine.
Heat Distribution and Retention
There's no denying that this pan has great heat distribution and retention properties. After all, it is a NSF-certified restaurant pan.
It can withstand up to 400°F, and it can be used on every type of stove — electric, glass-top, as well as gas.
Longevity
Obviously, this pan is not as indestructible as Lodge's cast iron skillet, but let's not be petty. For an aluminum piece of cookware, this Tramontina pan is pretty solid. Besides, when you buy it, you get a lifetime warranty.
Conclusion
Don't let its weight fool you — this pan measures up to the best professional pans out there. It's not suitable for oven or campfire cooking, but it certainly excels at stovetop cooking. Besides, its multiple layers of coating allow for easy preparation, as well as cleanup.
Yet another great pan on the market right now is the Ozeri Stone Earth frying pan. With this pan, Ozeri utilizes the latest kitchenware technology from Germany — a 100% safe and organic stone coating.
Appearance
Much like the other pans on this list, this one also comes in many sizes. But we'll talk about the standard 10-inch skillet. It weighs only 2.4 pounds, even less than the Tramontina pan we just reviewed.
The outside of this pan is reinforced with high-quality die-cast aluminum, whereas the inside has the signature Stonehenge coating.
As far as handles and other additional features are concerned, the Ozeri pan has a silicone-reinforced steel handle that allows for a more comfortable hand grip.
Coating
The best and most prominent feature of this pan is its authentic stone coating from Germany, called Stonehenge. This coating is 100% free of PFOA, APEO, and other harmful chemicals. That means that it doesn't release toxic fumes when it's heated. And unfortunately, same can't be said for most of the top-selling cookware currently on the market.
Another benefit of using stone is the fact that it's very durable and scratch-resistant. Besides, the stone coating makes the pan completely non-stick. Thanks to this useful feature, this it's also easy to clean up.
Heat Distribution and Retention
Overall, the Ozeri Stone Earth pan has decent heat distribution and retention properties. But this pan has yet another cool feature — a magnetized bottom that allows for a quicker heat transfer on induction stoves.
Longevity
Being that it has an aluminum and stone reinforcement, it's safe to say that this pan can endure a lot. It's also non-stick and resistant to scratching, which only extends its life further.
Conclusion
Aside from being an aesthetically appealing piece of cookware, the Ozeri Stone Earth pan is also environmentally friendly. Even though it's not a traditional non-stick pan, it's very durable and long-lasting.
If you're looking for a modern, reliable all-purpose frying pan, the T-fal E91898 Ultimate Pan just might be your choice. You can recognize it from a mile away due to its signature
Thermo-Spot
. However, give it some time, and you'll see it for what it truly is — a jack-of-all-trades of frying pans. It has all the features of a modern pan, but none of the drawbacks.
Appearance
The T-fal Ultimate pan has an anodized aluminum construction. The 12-inch pan weighs just under 4.5 pounds. It comes with the standard silicone-reinforced steel handle, as well as a glass lid.
Coating
The proprietary Pro-Metal non-stick coating makes it easy to cook healthy food, without needing to grease the pan beforehand. You can use it on any type of stove, except induction. Moreover, metal utensils are no problem for this pan — there's no need to worry about scratching it.
Heat Distribution and Retention
Aside from being able to hold heat well, this pan has some other useful features. The lightweight materials used in constructing the Ultimate Pan are doing wonders to make it heat up quickly and easily.
The anti-warp base makes sure you can use it at high temperatures with no worries, and the signature Thermo-Spot lets you know exactly when your pan has reached the optimal temperature.
Longevity
The T-fal Ultimate pan has an anti-warp base and scratch-resistant coating, which makes it dishwasher-safe. You can even put this pan in an oven (400°F without the lid, 350°F with the lid on) and it won't suffer any damage or deformation.
Overall, this pan is here to stay for a very long time.
Conclusion
The Ultimate Pan by T-fal is the pinnacle of modern cookware technology. It was created with the purpose of making your life easier, and it shows. Besides, it's very durable and sturdy, making it one of the best frying pans you can buy on the market.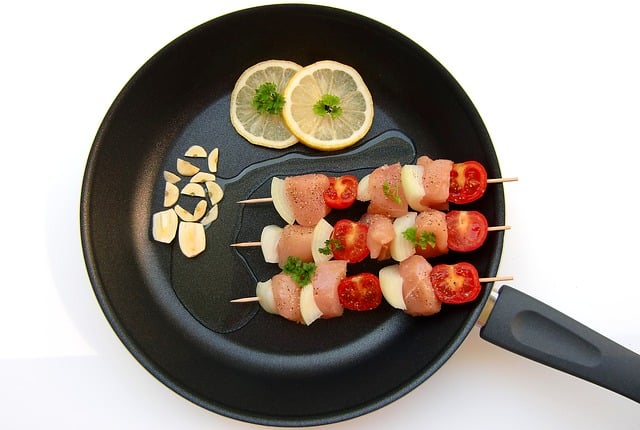 As always we do not like to recommend expensive products for no reason. A simple kitchen gadget such as fry pan should not be on the expensive side. This is why we rocks!. Finding the best appliances that completely worth your money. If you like our choices, we are happy!