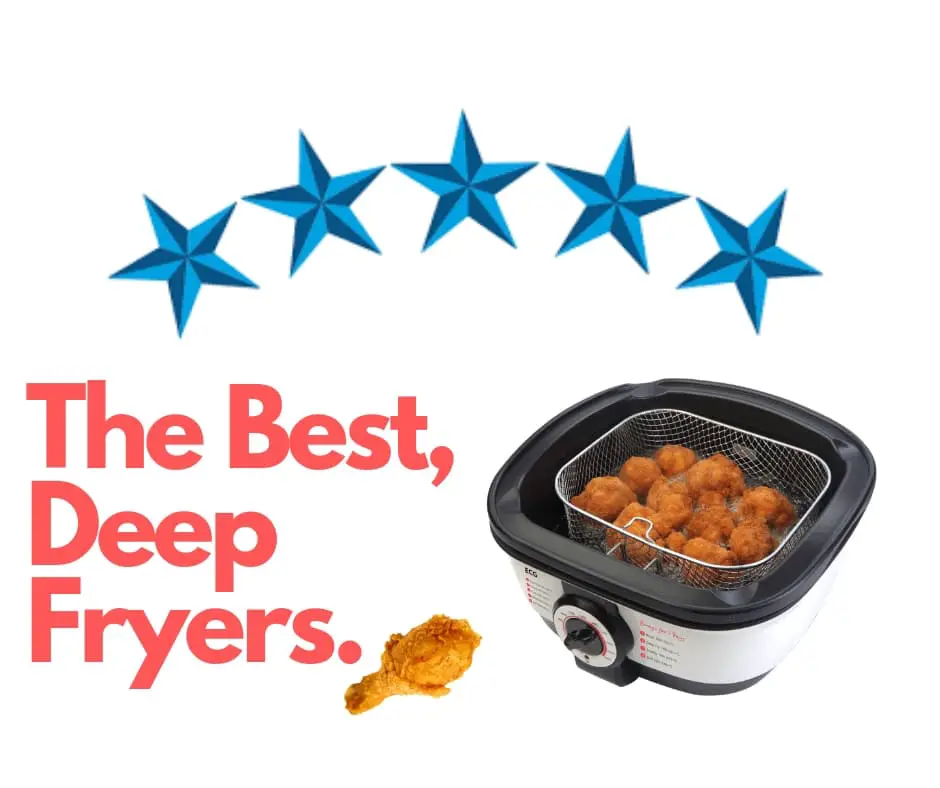 So, Deep fryers are amazing for fast cooking and keeping taste (secret is in the end!). The end product is crisp, soft and juicy. But are they healthy? yes if you eat it in a controlled manner. If you want completely oil-less food, get an air fryer.
Now deep fryers are available in small compact shape and size with variety of functions for home use. In this guide, you can find the best deep fryers that's worth to buy and their reviews
Top 5 Best Deep Fryers Reviews
| Review | Image | power | capacity | Ratings |
| --- | --- | --- | --- | --- |
| Hamilton Beach 35034 Professional-Style Deep Fryer | | 1800W | 4.5L of oil | 8.4 |
| T-fal FR4049001 Family Pro | | 1600W | 3L of oil | 8.6 |
| T-fal FR3900 Deep Fryer | | 1800W | 4L of oil | 8.4 |
| Presto 05420 FryDaddy Electric Deep Fryer | | 1200W | 1L of oil | 9 |
| Secura Stainless-Steel Triple Basket Electric Deep Fryer | | 1700W | 4L of oil | 8 |
If you're in want of a good fryer that can help you prepare large quantities of delicious food, then Hamilton Beach 35034 Professional-Style deep fryer is a perfect choice. Even though it's designed for professional use, this appliance is also great for cooking for your family because of the many features it has.
However, before making your final choice, here's a short overview of the good sides and the bad sides of this particular fryer.
The Pros
The first thing you'll notice about this fryer is its size, which makes it perfect for professional use, i.e., cooking in a fast food restaurant. Additionally, if you're the one that does the cooking at family gatherings, you might appreciate this particular feature.
Hamilton Beach 35034 comes with three baskets of different sizes which allow you not only to cook more food but also to cook two different types of food at once. That saves you time and the use of oil.
The appliance comes with a lid that prevents oil splattering and, therefore, saves you from the drudgery of cleaning afterward. Additionally, you can put the frying baskets in the dishwasher with no fear of damaging them.
The Cons
Size Does Matter, But in a Bad Way
When it comes to size, the downside of this fryer is that it takes up a lot of space. That may not matter to professionals in restaurants, but if you're cooking for your family, you better have a spacious kitchen counter and a tank of oil.
Sure, cooking two types of food simultaneously saves you time, but what does it do to the flavor of the food? Frying fish and chicken wings at the same time? No, thank you.
The Verdict
In the end, what makes Hamilton Beach 3504 one of the best fryers on the market is its volume. Consequently, if you're in the fast food business, this fryer will perfectly cover your needs. Just think twice before mixing different foods in it. If you just wish to cook for your family, it will work too, so long as you have the room.
If your family members enjoy Sunday dinner time and are also fans of fried food, you should definitely consider buying T-fal FR4049001 Family Pro deep fryer. This line of T-fal deep fryers was designed for cooking exquisite meals at home.
The Pros
What's amazing about this fryer is the fact that it comes with three baskets, i.e., two small ones that fit the fryer simultaneously, and one larger basket. In effect, this allows you to cook either larger meals or two different types of food at the same time. Moreover, the appliance comes with a filter to avoid compromising the flavors.
One of the great features of this fryer is the adjustable thermostat that gives you full control over your cooking. Namely, you can adjust the temperature to how you believe is best to deep fry your food in. In addition, the heating element can quickly reach the desired temperature and thus prevent excessive oil absorption.
For extra safety measures, there are the magnetic safety plug and the cool-touch handles of the appliance. Hence, you need not worry about potential shock nor burning your hands.
You can easily disassemble the fryer and clean the elements separately. Also, the baskets are dishwasher-friendly, so this takes one more chore off your list.
The Cons
When it comes to the downsides of this fryer, there aren't many. However, you won't like the limited warranty period, because it lasts for just one year.
Another aspect you might find a bit inconvenient is the size. Just like other versatile fryers, T-fal FR4049001 Family Pro deep fryer takes up lots of space.
The Verdict
With the included filter that keeps the flavor of your food, this is surely one of the best fryers for big families. The many features it has allow you to cook with ease whilst delivering mouthwatering results.
In keeping with its older version mentioned in the previous section, T-fal FR3900 deep fryer is an amazing appliance for cooking for your loved ones who enjoy a delicious piece of fried chicken. This model, however, is greater in volume since it can take up to 4 liters of oil, whereas T-fal FR4049001 can only hold 3 liters.
The Pros
Given that this fryer is larger than the older model, T-fal FR3900 deep fryer is yet again great for feeding a crowd. So if you're a people person who likes to cook for their family and friends on game-nights and other special occasions, this model is just right for you.
Regardless of its size, this model is also quite efficient when it comes to controlling the oil temperature while cooking. That is due to the adjustable thermostat and the removable heating element that helps cook the food evenly. As a result, the food is crispy no matter the size or the amount, and its nutritious quality is preserved. The latter  is of great importance to those who take care of their health.
This appliance also consists of stainless steel elements that are easy to maintain.  Namely, besides the three different-sized baskets, it comes with a removable bowl and a removable heating element, which makes it easy to clean thoroughly.  Again, the baskets and the bowl can be washed in a dishwasher.
The Cons
What always seems to be a concern with these large fryers is the size. Although this helps you prepare large amounts of food quickly, the storage can be somewhat of a problem.
What also entails from the size of this particular fryer is the fact that it makes it quite heavy. In effect, you will not want to move it around every time you wish to use it.
The Verdict
Both T-fal FR3900 and the older T-fal FR4049001 deep fryers have numerous features which will enable you to cook delicious, healthy food with ease. Ultimately, the choice comes down to your needs and capacities.
If you enjoy an occasional fast-food meal in the comfort of your home, then Presto 05420 FryDaddy electric deep fryer is just right for you. What's more, not only does it come at a low price, but it also saves you money due to its 4-cup oil capacity. All things considered, this one is the best deep fryer for you if you don't want to break the bank.
However, as you might presume, the lower price does imply a number of shortcomings regarding the quality of the fryer. These are worth paying attention to before opting to buy this product.
The Pros
To begin with, you will definitely appreciate the low price at which this fryer comes. Moreover, you will love the amount of money you will save on oil.
Contrary to many large fryers that can serve greater quantities of food, Presto 05420 FryDaddy will take little of your counter space. Thanks to this, you can put it wherever you like and move it around since it's not cumbersome at all.
Its simplistic design makes this fryer easy to use and to clean — it consists of a few elements made of non-stick material. On top of that, the built-in thermostat controls the oil temperature automatically, so you needn't worry about adjusting it yourself.
The Cons
As already mentioned, the low price of the fryer implies a few shortcomings when it comes to its quality. Specifically, the snap-on plastic lid can only be used to cover the fryer when it's not plugged in.
Since it's not made of stainless steel nor of removable components, this fryer is a bit tricky to clean. You will most definitely not want to put this in the dishwasher and will have to clean it manually.
If you're in a hurry and want to prepare yourself a dinner with no hassle, then the simplicity of this fryer plays to your favor. However, the lack of features implies you have little control over how you cook your food.
The Verdict
Though this is an affordable product, you should factor in a number of drawbacks before you get pulled in by the price.
Secura 1700-Watt stainless-steel triple basket electric deep fryer is yet another one in the line of large fryers convenient for cooking generous batches of food. Plus, you get to cook different foods without any concern about the quality since it comes with extra odor filters.
This fryer is perfect for large families, but the size of it might make you weigh in the pros and cons before deciding to buy it.
The Pros
This Secura deep fryer comes with a removable oil tank with over 4-liter capacity. Due to this, it can fit either two smaller baskets at the same time or one larger basket. As already mentioned, this way, you can cook either two different types of food or just one big batch.
The combination of adjustable heat controls and the immersion heat element allows for better cooking performance. It means you'll be able to cook your food quickly with minimum oil absorption. This way, the nutritious value of your food is preserved, resulting in healthy meals for you and your family.
One feature that makes this fryer stand out is the carbon-activated filter that minimizes the odor emission. In addition to this, there's a lid you can put on the fryer while cooking and still monitor your food through the see-through window on it.
The Cons
This rather bulky appliance might prove tricky to place if you do not have enough room in your kitchen. Furthermore, once you've found a spot on your counter, you should make it a permanent one since you won't be able to move it around easily.
The Verdict
If what you need is a fryer that can deliver hefty amounts of food with maximum quality, then you might want to invest in buying Secura 1700-Watt stainless-steel triple basket electric deep fryer. This fryer is listed as one of the best deep fryers for its numerous features that give you full control over cooking while keeping the flavors at the maximum and odors at the minimum.
The final choice

All of the above deep fryers are good for home use. Choosing which depends on what do you want to deep fry. In that regard, get the one that is suitable for your need. And the here's secret how the expensive restaurant keep the taste? They use peanut oil. Because it's best oil to deep fry with a boiling point of 450°F. Its expensive as the restaurant so that regular fryers do not buy it to even try it.

Do you know how KFC chicken fried? They use commercial version of deep fryers with large oil capacity. But colonel sanders preferred the good old frying pan to keep the taste. But it needs ~35 minutes. To fix this problem they are using pressurized deep fryers which reduced the cooking time to half.