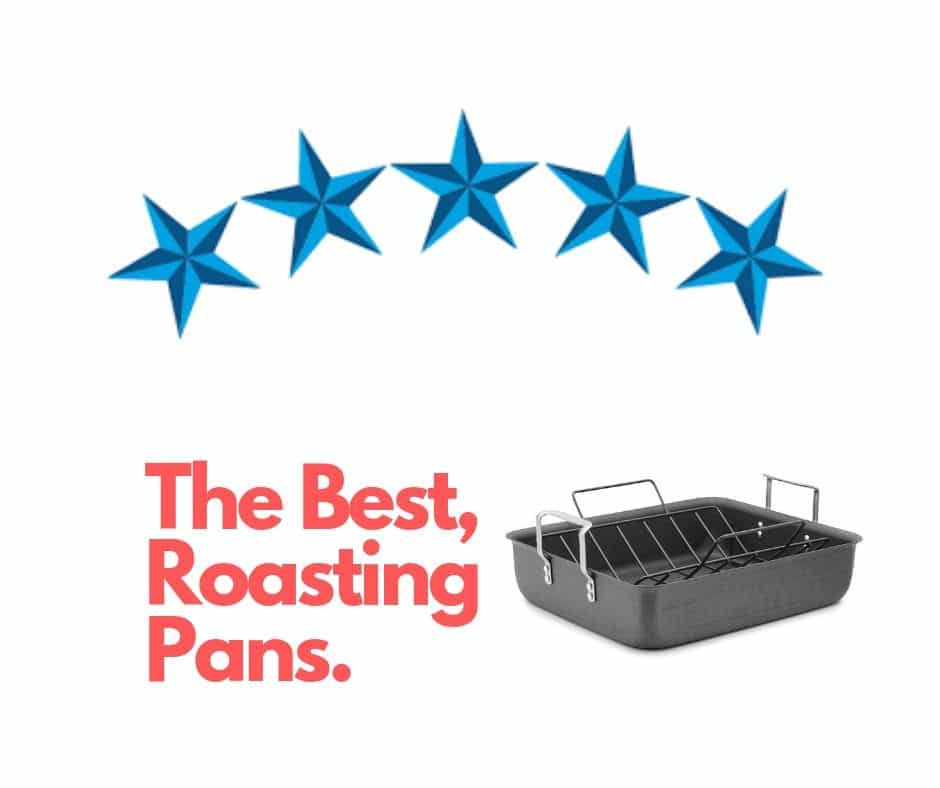 How To Choose The Right Roasting Pan? – Buying Guide
To help you decide on the right roasting pan for you, we have compiled a guide which focuses on a few important factors:
Material
The most important factor is the material of the roasting pan as it affects the way the food cooks. Roasting pans come materials like aluminum, coated cast iron, Pyrex, ceramic, copper, tri-ply and 5-ply.
Tri-ply is basically stainless steel with layers of aluminium sandwiched between it. It's durable, non-reactive, a superior heat conductor, easy to clean, and bright so you can see exactly how much your pan drippings are browning. It's also lightweight, unlike coated cast iron, so there's not as much of a struggle to lift and lower a pan in and out of an oven.
Stainless steel has the benefit of being easy to clean, since it is not easy to scratch. It is also widely used in mainly commercial kitchens because of its sturdiness and durability.
Cast iron is a combination of steel and carbon and as such is durable and scratch resistant. It can be used in stove tops, convection oven or grills but can be heavier than other materials.
Aluminum is an excellent heat conductor, but it's also reactive, meaning it can impart a metallic taste when used to cook acidic foods like tomatoes, citrus, and vinegar. Layering an aluminum core with stainless offers the best of both worlds.
Ceramic and glass are lightweight and durable materials but cannot be used direct on flames. Copper has excellent heat conduction properties and goes from oven to stovetop, but it can be expensive and easy to dent.
Heat circulation
A roasting pan needs to be just tall enough to accumulate juices within the pan but not too long as to prevent heat remaining in the bottom. The circulation of heat needs to allow for even browning and cooking of meat in the pan. We think 3-inch walls are an ideal height.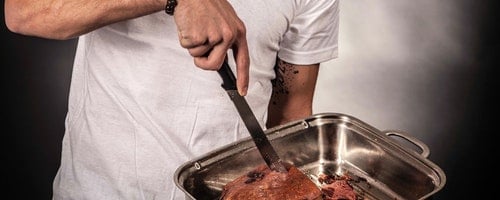 Stovetop performance
A roasting pan should be able to be multi-purpose and sear, deglaze, and cook gravy well on stovetops. Pans made of thin sheet metal will not offer equal heat distribution causing burn spots on the bird in some areas.
Flat bottomed pans are recommended as they offer more cooking space and also allows for whisking sauces and gravy.
Size
Most of us require a roasting pan to accommodate a big Thanksgiving turkey. It needs to be able to straddle two stove top burners at the same time but should still be able to fit into a standard-size home oven. We recommend that you look for a roasting pan that can fit an eight-rib roast which is usually 16 inches long.
Shape
Rectangular roasting pans are more versatile than oval roasters. Although more attractive looking, oval shapes are restricted because of their limited cooking area.
A rectangular pan also has more storage area than oval pans and are generally the most common ones available. It can also be used as a water bath for making baking delicate custards and also perfect for casseroles such as lasagna.
Handles
Handling incredibly hot pans is dangerous so having a good grip on the handles is important for safety and comfort. Stainless steel handles with riveted sides are the safest option. Thin handles welded on to the pans may look better but can be flimsy and not provide adequate protection. the sides are best, and they should be big enough to allow a good grip with bulky oven mitts on.
V racks vs. flat racks
A rack is a part of any roasting pan that allows heat to flow underneath the bird. You will find that a V-shaped rack to be the most common type available. It elevates the meat 1-2 inches off the bottom of the pan to roast it evenly. However the presence of a V rack limits how much a pan can hold.
Flat racks on the other hand offer more surface area to accommodate larger roasts.
Now that you know the features to look out for, here are our picks for
The 5 best roasting pans to buy
Cuisinart 7117 Review
The Cuisinart 7117-14RR Lasagna Pan with Stainless Roasting Rack is a durable, stainless steel roasting pan on a par with pans that cost nearly twice as much. It has a flat cooking area that makes searing meat or gravy or searing meat easier in comparison to raised middles or ridged bottoms.
The handles are riveted that have enough room to hold the pan with hot pads or oven mitts. With dimensions of 10.5 x 3 x 13 inches, this pan could accomodate a 15 pound turkey pretty well and can hold a slightly bigger one too.
The stainless steel core helps this pan distributes the heat equally when cooking on the stovetop. Gravy boiled consistently across the cooking surface without sticking or scorching. Another advantage of the flat bottom is that scraping off food and whisking liquids is easy.
It is wide enough to cover two burners on the stove and brown meat without inconsistent blackening or warping from direct burner heat. We also found it to work well on vegetables which were caramelized throughout.
Another feature we like about the Cuisinart roasting pan are its big, sturdy, riveted handles that are easy to grip with potholders or dish towels. And the included V rack doesn't have a nonstick coating, so it can take a good scrubbing without flaking.
Like most other pans, the Cuisinart comes with a limited lifetime warranty that protects against manufacturer defects.
The Pros
Heavy-duty at an affordable price
Large capacity pan that can fit into any standard sized oven
 U-shaped rack is removable and helps heat seep through the meat evenly
Wide handles that makes the pan easy to hold
The Cons
The pan does not come with a lid which is a feature you can find with most other competitors
Cuisinart MCP117-16BR Review
An affordable tri-ply constructed roasting pan, the Cuisinart MCP117-16BR can be used in the oven as well as a on a stove top. Made from a triple Ply Construction, the Cuisinart MCP117 is made of two layers of durable steel and one layer of aluminium sandwiched between them.
With an aluminium core, the pan offers equal heat transfer and durability while stainless steel does not react with acids in food making it safe to use.
The flat bottom gives the pan more space to cook large birds like turkey and chicken and also works well for searing and making gravy.. The pan features heavy-duty riveted stainless steel handles, making it easier to place heavy turkeys into the oven safely.
We do wish that the handles had a little more room for a better grip. You can also see a solid stainless steel V-rack that allows heat to circulate within the pan and drain the drippings as the meat cooks.
The roaster can be used safely within a temperature of 550F and is dishwasher-safe. It also comes with a limited lifetime warranty.
The Pros
Durable with a sturdy construction
 Versatile in usage as it can be used in the oven, induction, and stovetop
 V-rack helps distribute heat and allows fat to collect underneath
This Stainless Roaster is nonstick and cleaning it is very simple.
 Has the most favorable side height of 3 inches
The Cons
At 10 pounds, it is heavy to lift and move
 The stainless steel rack does not have handles and can be tricky to pull-out
Precise-Heat Multi-Use Baking and Roasting Pan Review
This 12-element multiply roasting pan is made with a high-quality stainless steel and as such is very durable. Riveted handles make it easier to maneuver, even when full. This heavy-duty pan can function as a roasting and baking pan as per your needs.
This Precise Multi-Use pan comes with a wire rack that elevates the meat to cook it through and through. They come attached with handles, a feature that not many pans have, allowing you to lift heavy roasts from the pan.
The Multi-Use Roasting Pan measures 20 inches x 12 inches x 8 3/4 inches which is large enough to prepare a medium-sized turkey. Versatile in usage, you can use this pan to roast turkey, chicken, vegetables, and fish.
The depth of the pan ensures that you can use it to make gravy and sauces. You can even use it as a water bath for puddings and custards if desired. When you're ready to clean up, simply put it in the dishwasher.
The Precise Roasting pan is very versatile and can be used in ovens and stovetops. Like most other roasting pans, this pan is dishwasher safe and comes with a limited lifetime warranty.
The Pros
Can be used on the stovetop and ovens
The base of the pan and lid are made of stainless steel construction that distributes heat evenly
 Ideal for roasting, baking sauces, making a water bath and more.
The Cons
May not be able to cook large birds
Some customers mention that they had to use vinegar to get the smell out
Calphalon Contemporary Hard Anodized Nonstick  Roasting Pan Review
Made of hard-anodized aluminum, the Calphalon Contemporary Nonstick cookware has a nonstick finish and stainless steel handles. It can be used in the oven and stove tops at temperatures up to 450°F. Popular among many new cooks, this pan has a wonderful contemporary design that would look good in any kitchen.
The non-stick coat allows food to cook evenly without scorching and best of all, you wouldn't need a ton of butter to get the job done. The interior of the pan has three layers of non-stick coating.
Two layers add to the durability of the pan while the third layer brings smoothness to the pan. The Calphalon houses a V-shaped rack that allows heat to circulate throughout the meat and brown it evenly.
We found the the stainless-steel handles to be short but they allowed for a solid grip for oven cooking. The handles are made of stainless steel so are sturdy enough for you to hold even when at full capacity.
Although dishwasher-safe, we would recommend hand washing sometimes to preserve its nonstick coat. The Calphalon comes with a 16-inch roasting pan, rack, stainless steel lifters and an injection baster. Calphalon is known for its quality and hence comes with a full-lifetime warranty.
The Pros
Heat is evenly distributed
Dishwasher friendly
Nonstick finish easily cooks food without fat/oil
The Cons
They are difficult to clean as they are riveted
Scanpan Classic Roasting Pan Review
The Scanpan Classic is the most popular one in the non-stick variety because of its ease of use and affordability. We also enjoyed its minimalist design. An interesting fact is that Scanpan uses recycled aluminium in its construction and does its bit for a greener production process.
Scanpan is PFOA friendly so it is safe from harsh chemicals and metals. Aluminum is a good conductor of heat and is a good choice for novices.
The nonstick coating is the Scanpans's USP and it uses a patented ceramic titanium surface which claims to be 10 times harder than steel. It does not need large amounts of fat or grease to cook.
Cleaning should not be difficult as it is dishwasher safe. However we would recommend hand washing to extend the life of the cookware. The cookware is oven proof up to 500°F but cannot be used for conduction cooktops.
For us the major was the Scanpan Classic differs from others is in its handle design. The handle is fixed to the pan directly without screws or rivets used. A patented locking system is used to make sure it does not become loose which tends to happen to roasting pans.
This system also means that the interior of the panhas has no rivets that can collect food gunk. If you're concerned about the hygiene of the pan, this would be a good feature.
Performance-wise, the non-stick heats evenly. The flat base does not seem to warp unless you overheat the pan. However, the Scanpan has a thicker base which takes a longer time to heat up.
The Pros
The ceramic titanium non-stick surface needs little to no grease for cooking.
The non-stick is not easily damaged even after using steel utensils.
 The aluminum body allows for even distribution of heat
 The sloped sides allow for easy flipping or lifting up of foods
 The handle is ergonomically-made and features no screws or rivets
 Dishwasher friendly
The Cons
Higher priced than competitors
The Conclusion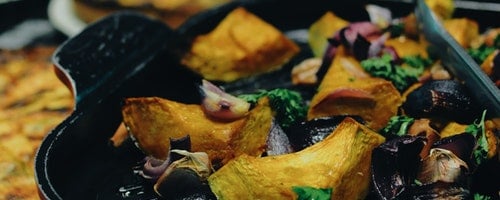 For anyone looking to become a good chef or make better meals for family, a good roasting pan is a valuable investment. There are a lot of options covering every budget and need. Hopefully, our guide has helped you choose the best one for you. We think that the Cuisinart 7117 is a superb choice for beginners and the Scanpan Classic Roasting Pan is a great option for the pros.

A roasting pan is a versatile piece of Kitchen equipment and actually can be used for more than just the Thanksgiving turkey. You can use it to make large batches of lasagna or a casserole. Or even roast hearty vegetables onions, potatoes, tomatoes and more. Here in this guide you can find the best roasting pans.