Woks are a versatile piece of cookware in the Kitchen for Asian cuisine and you can saute, deep-fry, boil, steam and much more with it. If you want to cook Asian food, a wok is a good investment. Woks come in about every piece of material available. When cooking in the kitchen, it is important to choose the best tools for the job. To make the choice simpler for you, here is our list of best wok pans.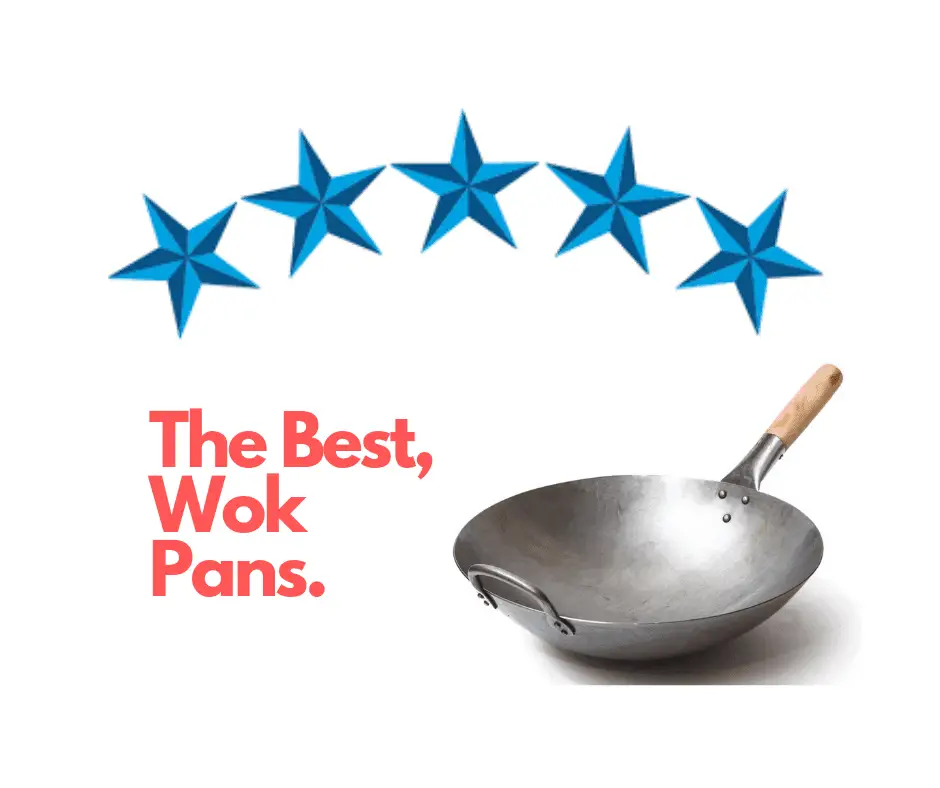 While choosing a wok, there are 4 things you need to think about the material its made from, the size of it, the type of handles it has got and the shape of the base.
The size of the wok is important as you don't want to have a wok that is too big for your stove or too small for the amount of food you cook.
There are two types of handles- stick or loop. The stick handle is similar to the ones in a frying pan and is good for beginners while a loop handle will require a mitt to keep from burning your hands but helps provide a solid grip. Woks come in round or flat bases each of which has different benefits. 
Best Wok Pans
Wok Pans Reviews
An amazing stir-fry pan with top ratings and this pan is a must-have. There is a long-stay cool handle in the back and a helper handle in the front which helps toss things up to cool them down and heat them back up. It does have a brass anodized exterior that will last for a really long time according to the manufacturer and gives it a modern look too.
It is created with a multi-layered non-stick which gives a lasting release and is easy to clean up. It is designed with a heavy gauge hard anodized aluminum that heats evenly in the core and the sides as well. It's oven safe to 450 Fahrenheit and it's the safest to use with nylon or wooden utensils with it.
Being flat bottomed, this Calphalon Wok has a wide surface and can be used on gas, electric, electric ring, halogen, or glass-ceramic stovetops. In order to best maintain the non-stick coating, we recommend that you use nylon-coated, or wooden utensils.
The Pros
Non-stick surface makes it easy to clean

Hard anodized aluminum makes the heat distribution even and maintains a steady simmer

Dishwasher safe

Full lifetime warranty
The Cons
Some reviewers mentioned that the handles get too hot on high heat
In addition to a modern look, the Cooklover Nonstick boasts of a die casting aluminum body that is scratch resistant and ensures even heat distribution.  
The interior and exterior of the pan are coating with a high-performance non-stick coating which is a kind of ceramic marble coating that makes the Chinese wok easy to clean.
What is special about this Cooklover wok is that the material used to make it is smokeless, durable yet environmentally friendly. The Silicone handle is soft to the touch and has a contrasting woodgrain design which doubles as a Wok stand.
It comes with a glass lid that has a steam vent that makes monitoring the food easy and prevents the inside of the pan from getting too hot. Anodized aluminum is known for its even heat distribution capabilities and works best on medium heat.
The Pros
Aesthetically pleasing with a ceramic finish and a wooden handle

Even heating with no hot spots and minimal oil requirement

Very easy to clean and is dishwasher safe
The Cons
At 5.6 lb, the work is heavy and is not the best option for people with wrist or balance issues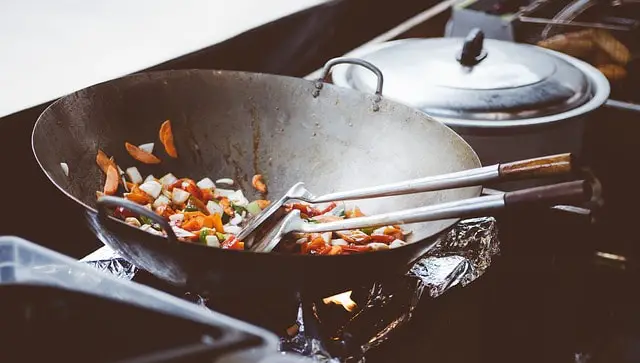 This Calphalon Nonstick Flatbottom wok is a good option for beginner cooks. Fairly inexpensive, this wok is super easy to clean due to its nonstick surface. To increase the longevity of your pan, use silicone or wooden tools to not damage the non-stick surface.
It comes with a tempered-glass lid which allows you to monitor everything that happens inside the wok. Made with a hard anodized aluminum, this wok features ergonomic handles that will stay cooler longer when they're on the oven or the stove.
They are safe up to 500 degrees Fahrenheit with Nylon-coated or wooden handles. This is a sear nonstick wok which gets your a great professional sear on your protein and browning of meats, fish, and vegetables. This piece is perfect if you want to upgrade your current cookware or if you're stepping out on your own. surprisingly heavy.
The Pros
The wok is visually appealing with its minimal design and glass lid

At 13 inches, the wok is big enough to cook for 3-4 people

Dishwasher Safe and is easy to clean

Lifetime Warranty
The Cons
Expensive as competitors with similar features are priced lower

At 9.55 pounds, this wok is heavy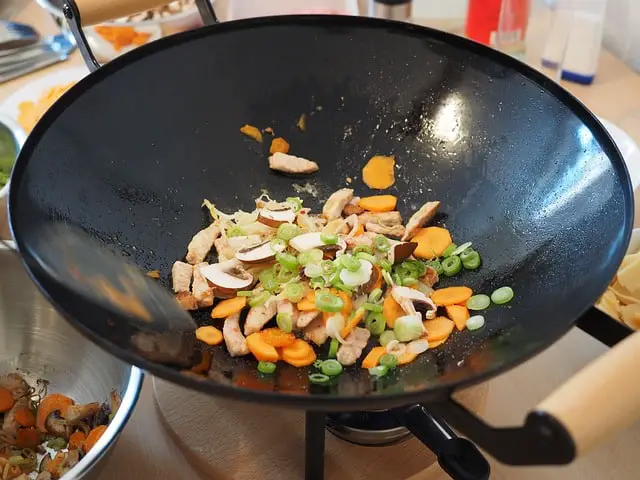 If you consider yourself as an experienced cook, this may be the perfect wok for you! It has an ancient and traditional feel to it yet is so robust that customers joke about it being passed from generation to generation. With a moderate size of 14", this Wok is good for 3-5 people.
Carbon steel is the most common material used to make a Wok and for good reason. With a thickness of 1.8mm, this wok is lightweight, heats up quickly and evenly. There are also concentric grooves that bring a consistent heat distribution.
Another bonus is that it requires less oil to work with once it is well-seasoned. Coming with a round bottom surface, this Wok works best in a large open flame and cannot be used on induction or electric stove. The steel helper handle has a non-slippery surface that not only provides a solid grip and also provides protection for your fingers on high heat. The handle has also makes it easy for you to hang it for storage.
Overall, customers are pretty happy with the performance of the Craft Wok Traditional Wok. There is something quite refreshing about the looks of the wok. The grey color of the pan and the wooden handle makes it seem like it could be found in traditional Chinese homes.
This is a round-based wok that is known for providing better heat distribution throughout the wok and can help you move food around easily. Because this is made in China, we can safely say that is one of the most authentic and best wok pans in our list. This Wok was made by a hammering method which makes indentations through each strike of the hammer. This keeps the inside edges of the pan rough keeping the food in place.
The Pros
Durable and reviewers have mentioned that the wok has lasted them for years
Large in size which can hold your food for 3-4 people
It has an extra loop handle opposite the helper handle that provides a firm grip and helps you toss food like a professional
The Cons
This pan has a rounded bottom which will render it unsuitable for use over an electric stove but you could buy a wok ring to balance it over the element
Requires special attention after each use and using soap or chemicals to clean is not recommended
Calphalon Triply Stainless Wok is clearly a fan favorite. Made from a combination of stainless steel and an aluminum core, this Wok used the strengths of the materials to provide even heating and more control of the cooking process. An average size Work with a 12" pan, this features a flat bottom and curved edges which makes this wide enough to cook for two to three people.
Like most other woks, this too comes with a tempered glass lid which allows you to monitor the food that is cooking at all times. Being dome-shaped, this wok is great for steaming and simmering soups.
This Stainless Steel pan is built tough and like cast-iron can be used on the stovetop or in the oven. This is particularly good when you want a nice sear on a protein. You can truly cook anything on a stainless steel wok- salmon, eggs, sauteed vegetables, noodles and more. To prevent food from sticking, you need a pre-heated pan and an appropriate amount of oil.
The Pros
Dishwasher safe
Stainless steel is durable does not rust easily
Lifetime warranty
The Cons
Some reviewers mentioned that the bottom was prone to scratching
If adequate oil is not added, the contents might stick to the surface of the wok
It measures 14 inches from across the top, 4 ¼ inches in height and 18 ¼ inches from handle to handle, so it is definitely a big wok. It comes pre-seasoned so you can use it immediately. With a flat base, it sits perfectly on gas or electric ranges.
The base is sturdy enough to prevent moving around while cooking. This wok has two large loop handles so you can lift it easily. The wok is on the heavier side at 14 pounds but this is usually the case with all cast iron woks.
You can use metal or high-temperature silicone utensils on this wok. On medium heat, the temperature of the Wok should be about 400 degrees in under 5 minutes which is enough to cook most food. The Wok will become non-stick over time and you'll need to use less oil as time passes.
Cast iron takes a relatively long time to warm and cool down compared to other materials but it provides a good nonstick surface. Cast iron wok pans require some TLC after use is not recommended to be used in a dishwasher, instead, you should wash it with cloth and water. To increase the durability of the Wok, apply oil on the cooking surface using a paper towel afterward.
The Pros
Quite large so can hold a lot of food
A non-stick finish which makes it easy to clean, minimizes oil required and prevents food from sticking to the pan
The helper handle is convenient and also works as a stand-up handle
Can be used on gas cooktops, induction, electric, ceramic, grill and even the oven
The Cons
Not for those who need lightweight cookware
Handles can get hot so you need to use mitts
The Final Conclusion
Today you can use wok pans for more than just cooking stir-fries and some can even replace your standard frying pans. It can be used to smoke, fry, stew, boil, braise, poach, sear, and roast.
If seasoned and properly maintained, a wok can last for a long time and make your cooking experience better! While we don't agree that expensive woks are necessarily the best wok pans, especially if you're a beginner, we recommend that you choose one from an established brand that fits your family size and your cooking medium. Or you can pick anyone from our list above!