Thinking of getting a slushy maker to make slushies on your own? 7-11 may have popularized the evergreen slush drink – The Slurpee, but you shouldn't have to drive down to a convenience store whenever you want a nice, cool drink.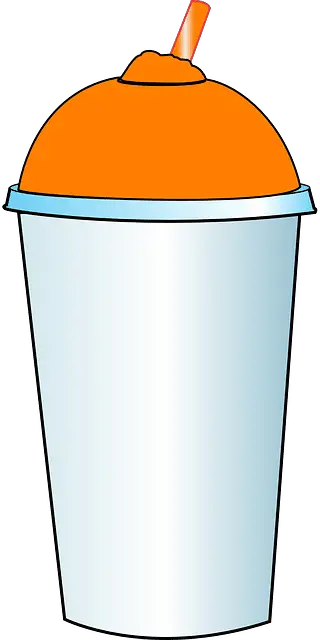 You also might want to experiment with different combinations and ingredients to make your slushie that you can't find anywhere else. Also consider the economics of your favourite drink- yes, you can get an iced coffee at Starbucks but if you frequently buy the drink, the cost will add up pretty quickly.  If you invested in a way to make them yourself, it wouldn't take long for a blender to pay for itself.
A slushie also is a good idea if you enjoy serving blended drinks while hosting or at your office/establishment. An ordinary blender will not be able to give comparable results to a dedicated slushie machine.
Buying a slushy maker – what to know?
The number of people you want to serve drinks
If you're looking for a slush machine for home use, you may not need a large capacity. Every machine will come with the number of cups it can produce, so check it out before you buy. Usually, a single-serve slushy machine has a 3 gallon capacity, a 2-tanker has a 6-gallon capacity and a 3-bowl slushy has an 8-gallon capacity.
Home use or commercial use slushy maker
A high-capacity, commercial grade slushy maker is good if you plan to sell slushies and profit from it. This machine would be built sturdier, with stronger motors and a larger capacity. Meanwhile, single-serve slushy makers are perfect for home use. This type of machine is low-capacity and portable that can you keep on your counter, poolside or anywhere you intent to party. 
The refrigeration system of the machine
Some slushy makers have an in-built cooling systems while there are those that will need ice. The former is much more convenient as you won't need to top the machine up with ice for every use but it does cost more than the former.
The type of beverage
Some slushy makers can only work on pre-packaged commercial mixes and cannot work on your own ingredients. Their usage is limited and this may be preferable if you do not want to get into the hassle of preparing ingredients. But we would suggest you go for a machine that is multipurpose and can make beverages out of any ingredient you want to use. 
Speed
If you're using a slushy machine at home, you may not be overly concerned with the speed at which it operates. But for commercial usage, the that speed can impact how long it takes to make a drink and how smooth the drink is. Most machines have a central blade system that swirl the mixture while creating ice.
A more expensive slushy machine will come with setting to adjust the speed and get a drink in the consistency that you desire. 
The sheer variety of slushy markets online can make the process of finding the right one confusing. To make things easier we have narrowed down on our top 5 slushy machines available right now, keeping the above factors in mind:
VBENLEM Commercial Slushy Machine Review
Featuring two large 15-liter capacity tanks, the VBENLEM is a heavy-duty slushy maker. This machine generates low noise, features air cooling and consumers a nominal power of 600W. The tank is made of sturdy PolyCarbonate material making the machine high & low temperature-resistant and unbreakable. non-toxic, anti-foaming and removable. 
The tanks are removable and you can take them apart and clean it thoroughly. With two tanks present, we found can you can mix two different drinks at a timeThe VBENLEM comes with a refrigeration system which is quite fast and can produce slush in just 30min-45 min.
This machine uses an electromagnetic transmission shaft and magnetic to work which gives it a longer-life span and uses less energy than competitors. 
This slushy maker can produce more than just slushes and we've found it good to make cocktails, mocktails, iced coffee, frappes and juices and smoothies.
There is an easy spout to dispense drinks and the glass holder works to prevents spills and mess. The controls are covered by a see-through cover so that you can operate the machine without it getting sticky.  
The Pros
Large capacity

Removable tanks, easy to clean

Uses little power for its size

Easy pour spout

Not noisy to operate
The Cons
It takes some time for slush to form
Nostalgia RSM650 32- Ounce Slush Drink Maker Review
The Nostalgia Slush maker is high on style with it's plastic body reminiscent of an old-school slush models in 7/11s. With a capacity of 32 ounces, it is good enough for a party, brunch or any small cafe. The slush machines comes with a detachable tank which means you can clean it more thoroughly.
The machine features an easy-flow spout, a detachable cup rest and drip tray to keep the dispensing easy and mess free. You can make a variety of drinks like soda drinks, daiquiris, margaritas, and fruit-flavored slushies. You will have to take the extra step of adding salt in order to keep the drink from becoming too icy. 
Being small in size, this slush machine is portable and shouldn't be too hard to move around. However, it does not come with a built-in condenser so you will need to add in ice and salt to make sugar- based drinks.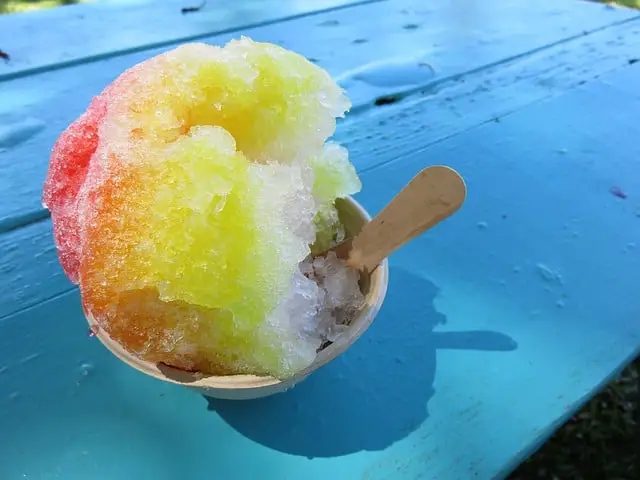 It is not as fast as commercial slushy makers so it works better for home use. And the good part is that it does not use up a lot of energy to make frozen beverages. 
Unlike commercial-grade machines, the Nostalgia slush maker is easy to store and can be kept on your counter without it taking up a lot of space. You might want to find another slushy maker if you intend to use natural juice instead of artificial syrup and salt.
The Pros
Large capacity of 32 ounces
Removable tank that makes it easy to clean
A cool retro design that is a blast from the past
Comes with a cup rest and drip tray
Perfect for making slush drinks, margaritas, daiquiris, and soda drinks.
The Cons
You would have to add table salt to your drink in this machine.  Those who drink slushies as a way to rehydrate will find this feature counter-intuitive
The machine will not work with natural juice as it works with ,ice, salt, and sweet syrup
Zoku Slush and Shake Maker Review
A single serve slush & shake maker, the Zoku is compact but powerful enough to make smoothies, milkshakes, cocktails and slushies from fresh fruits, milk and other delicious ingredients. The 8-ounce container can make any of the above drinks in about 7 minutes without any other bulky equipment or even electricity to power it up. 
The Zoku is designed to work just like an ice-cream maker. It is pretty easy to use and all you need to do is freeze the inner core for about 8 hours and place it into the outer sleeve. Then pour your ingredients, use the cup (included in the package) to mix the ingredients and viola. 
After each use, we would recommend that the core be rinsed clean with warm water and re-frozen. You cannot use this in the dishwasher which is a small price to pay for this tiny power-packed machine. The Zoku is built for residential use and as such is BPA and phthalate, thus safe for the entire family. The small-size of the Zoku makes it possible makes it possible to pop it in your bag and take it anywhere you'd require a cool drink.
The Pros
Make frozen treats in less than 7 minutes

Compact and portable you can take it anywhere

You can use any ingredients you want

Comes with cover and slush spoon
The Cons
Does not last long

Makes one slushy at a time
Margaritaville Tahiti Frozen Concoction Maker Review
The Margaritaville Tahiti Concoction Maker is almost a party-drink maker with its ability to make 3 drinks at the same time. This heavy-duty machine comes with huge 3 x 24 ounce jars that can handle the load of a commercial space. Made with stainless steel and bamboo wood, the Margaritaville Tahiti is super durable.
The Margaritaville comes programmed to make 6+ types of drinks including margarita, daiquiri, mudslide, colada, mojito, and smoothies. You can also choose between a shave-only or blend-only setting to get your desired consistency. The Margaritaville Concoction maker comes with a rotating ice chute so you wouldn't have to freeze ice separately for your drinks. 
This concoction maker features rotating ice chutes, flashing  and a lid with a safety lock. You can also control the amount of ice fed to the blending jars which is great if you want precision in your recipes. We found the machine to be quite visually appealing with its polished stainless steel and premium bamboo wood construction with brushed aluminum finishes. 
The Pros
Creates different types of drinks at a time

Features a rotating ice chute that can be quite fun to look at while operating

Made from premium strong materials

With limited 1-year warranty

You can serve more people at once
The Cons
Some found the Tahiti to be too loud

Takes up a lot of space
Margaritaville Key West Frozen Concoction Maker Review
While the brand is recognized for its drink dispensers, the Margaritaville Key West gives you all of the basic functions with extra special features. The drink reservoir holds two pitchers of one frozen beverage that is quite enough for 12-16 people. A feature we enjoyed was its conversion of ice into shaved chips rather than crushed ice that gave us an authentic frozen slushy experience. 
The Margaritaville Key West Concoction Maker does the tasks of a basic slushy machine and takes it a step ahead with its easy-pour jar and XL ice reservoir. The ice and ingredient containers are separated to ensure they do not mix until it's appropriate for you.There are 4 pre-programmed drinks with options to automatically shave or manual blend only/shave only cycles. 
More so, its separate containers make sure that your ice and fluids do mess with each other. Thus, there is so much extra space featured in this item.
You also don't have to open the lid to pour the drink as this machine features an easy-pour hatch. The easy-pour feature allows you to pour the drink avoiding the messy leaks and accidental spills. 
Measuring 14 x 9 x 19 inches and weighs 23.3 pounds, the ice reservoir is large enough to make 2 and a half pitchers of frozen drinks. The brand gives a 1-year warranty and is dishwasher safe.
The Pros
It has pre programmed settings so making drinks is very straight-forward 

Dishwasher-safe

A shot glass is included for measuring

Cord storage

Comes with an extremely detailed manual
The Cons
Can only make frozen drinks

Fairly noisy

It is large and will eat up a lot of counter space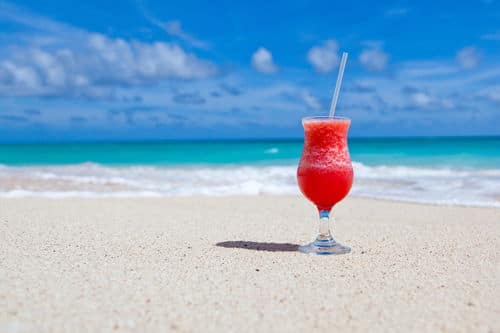 A slushy machine can help you whip up the perfect slushy, smoothie, or frozen cocktail in no time. If you own a business or a cafe, having a slushy machine in plain sight of your customers will boost impulse sales and give off a lively vibe to your space.
We recommend the VBENLEM Commercial Slushy Machine for commercial use while the best option for home would be the single-serve Zoku Slush and Shake Maker. However, any of the above options will allow you to turn your kitchen into a capable bar, with the ability of making pitchers of drinks everybody loves.