The lollipop leads us to a very simple idea… a sugar candy punctured on a small stick. " Imagine now, it shines in the dark!
Lollipops and sweets in general, are closely linked to the discovery of sweet and especially honey. According to some experts, the origin of the lollipop could be in the time of the caverns, where the honey was taken from the hives with a stick, checking its sweet taste.
The ancient Egyptians prepared their candies by mixing honey with cereals and fruits, and shaping them in many different ways. But, it is in India where the discovery of solid sugar to make them comes. Then they have evolved and reinvented themselves throughout history, so we have sweet , salty, futas, colors and a thousand shapes.
But, today to incorporate a playful element we bring a fun and entertaining fluorescent lollipop. Mix of candy, fun and science! To achieve this, we use tonic water (it contains quinine sulfate), which produces a fluorescence under a certain wavelength of light, and a slightly bitter taste that is compensated by playing with the sugar of the lollipop itself.
And why a fluorescent lollipop? Well, to be able to eat it on Halloween night, at a party or simple fun! . It is an experience … eat light and sugar!
FLUORESCENCE OF TONIC WATER
" Fluorescence is a physical phenomenon by which certain substances absorb energy (from ultraviolet light) by emitting it again in the form of light, this time from the visible spectrum and a characteristic color (a certain wavelength)."
In our lollipop, we have used tonic water, which contains a substance called quinine and emits intense blue fluorescence when it absorbs UV (ultraviolet) light. That is, when it is exposed to a UV light source.
Fluorescence takes place while the stimulus that causes it lasts. That is, when the irradiation of the lamp disappears, the fluorescent effect disappears. It is a process whose effects are immediate. This is what happens in some discos, which have black light lamps or with counterfeit bill detectors. The idea is to reproduce this effect in our treat: a fluorescent lollipop.
The quinine found in tonic water is safe to eat, so you can add it to our caramel and make a black light reactive lollipop. Do you want to make your fluorescent lollipop? Try this simple recipe!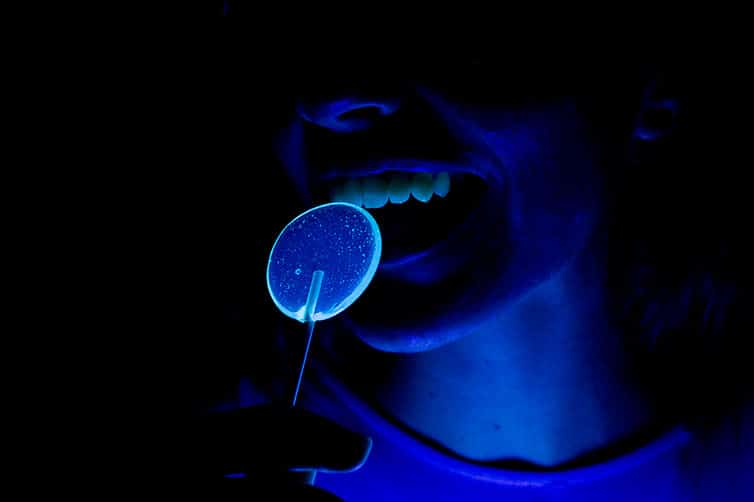 RECIPE FOR 10-12 FLUORESCENT LOLLIPOPS
160 grams of granulated sugar
55 grams of tonic water
50 grams of glucose crystal (or corn syrup)
juice of ½ lemon
scraping of ½ vanilla bean
Tooling
Silicone mat / silicone molds or sulfurized paper
Lollipop sticks
Black light lamp
INSTRUCTIONS
Previously, we placed the sticks on a baking sheet lined with sulfurized paper / silicone mat.
Before we start with the lollipops, we will have removed as much gas from our tonic water. We achieve this by strongly removing the tonic until it loses its gas.
Mix the sugar, tonic water, glucose, scraping and the juice of half a lemon. We stir carefully until everything is completely dissolved. We take them to a saucepan, and put it on medium low heat (4) for approximately 20 minutes.
It will take time to bubble, so calm down. The idea of ​​doing it at a medium-low temperature is to make it transparent, not amber.
With a damp brush, we can clean the walls of the saucepan when it starts to bubble, to prevent crystals from forming on the walls.
Once the saucepan mixture begins to boil, stop stirring or stirring. It is advisable to use the thermometer to make sure it reaches 150 ° C.
Once, it has reached the indicated temperature, let it cool until bubbles no longer make and pour over a jug of liquids (to handle it better).
We pour the mixture on the sulfurized paper with circular movements until it reaches the size of your taste and let it cool. We must secure the sticks so that they remain firm.
We let a few hours pass, and when the candy has hardened, we already have them ready.
We can wrap the lollipops in plastic bags and store in a cool place. Heat and humidity can affect the consistency of lollipops.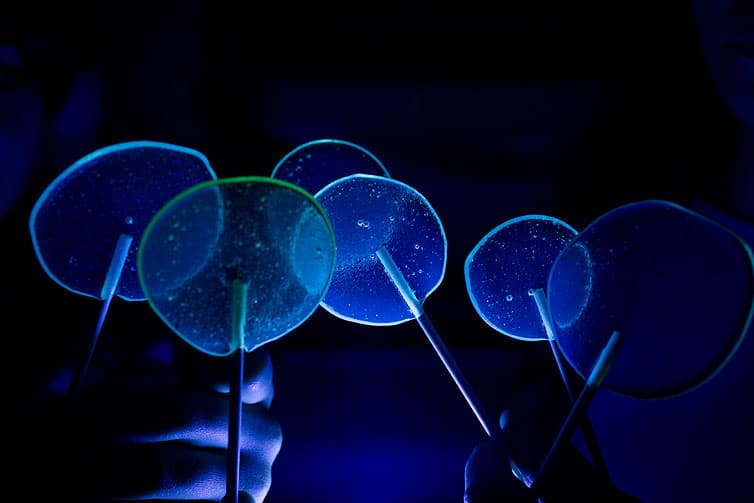 Now with our black light (UV) lamp, we can make our own party!