Gruyère cheese got its name after the town of Gruyéres in Switzerland, which is where its roots are. This succulent cheese has a rich, creamy and nutty flavor making it a great ingredient to use in fondues, sandwiches, and a variety of other dishes.
However, when compared with other types of cheese, Gruyère is usually more expensive. Plus, it isn't easily available in grocery outlets either (unless you're from Switzerland!). So, what should you do if a recipe asks for Gruyère and you can't find it anywhere? Or, you just can't afford it?
Well, the good news is that there are nine substitutes to Gruyère. But before we move on to the substitutes, there are a few things that you should keep in mind…
Some tips to make the most of the substitutes
Cheese is quite a delicate luxury. No matter which type you use, make sure you store it in a clean container and refrigerate it after use. Remember, cheese is perishable so don't try to store it for too long.
When using the following substitutes, make it a point to stick with the same quantity that the recipe asks for. Only IF you realize that the consistency or flavor doesn't seem right, you should add more of the substitute.
Substitutes for Gruyère
Whether you're cooking, baking or just making a dip that requires Gruyère, we have a variety of substitutes that can be used. They are namely Parmesan, Comté, Beaufort, Jarlsberg, Fontina, Emmentaler, Maasdam, Edam, and Raclette. As you keep reading, you will see how each one needs to be used.
Maasdam or Edam — for snacking, or just eating
Because of decadent flavor, Gruyère is typically eaten just as it is. Unfortunately, it isn't a treat everyone has access to. But, Maasdam or Edam are very close substitutes in terms of taste.
The Dutch cheese, Maasdam, was initially supposed to replace only Emmentaler. But eventually, with its extraordinary flavor, it beat most other types of cheese as well. Similarly, even Edam is recognized for its unique taste. Moreover, Edam does not get spoiled, making it every cook's favorite. It hardens with time, but it remains edible nonetheless.
However, one thing you need to bear in mind when it comes to Edam and Maasdam is that they're very fatty. So don't let their taste trick you into over-consumption.
Raclette — for grilling
First produced by the French and the Swiss, Raclette is the perfect substitute for Gruyère if you want to add a cheesy finish to your dish.
Whether it's a topping for vegetables, snacks or just fries, Raclette adds a mild savory flavor along with its cheesy flavor. But it does so without overpowering the flavor of the dish. Perhaps that is why Raclette is becoming increasingly popular as a topping.
In case you can't even find Raclette, you could use any type of cheese that melts smoothly. However, do make sure that it doesn't have a pungent odor because that could ruin the taste of any dish. The best way to avoid such mishaps is to experiment with the cheese first. In fact, you should do that with any substitute ingredient, not only with cheese.
Parmesan and Fontina — for creamy toppings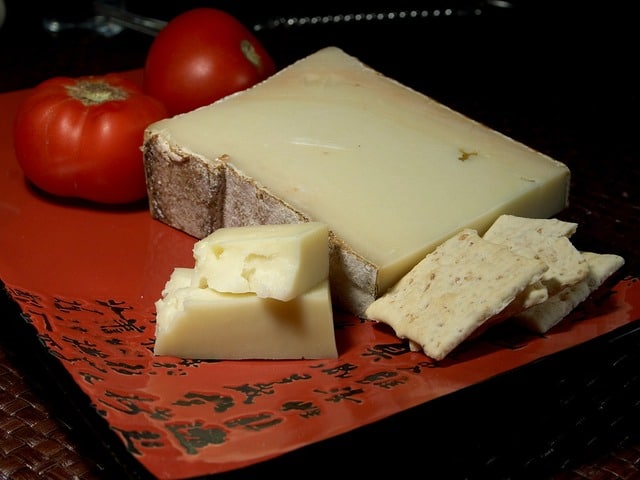 Raclette is usually used as a topping for vegetables. But what about toppings for different kinds of pasta and pizza? A lot of recipes use Gruyère for that too. In those situations, Parmesan and Fontina make an ideal substitute.
Yes, you should use them together and I recommend using an equal quantity of both. Parmesan's consistency and Fontina's rich flavor will definitely enhance the taste of any dish. Plus, they are easily available in grocery stores, making them a convenient substitute. And, an affordable one too.
Emmentaler — for fondues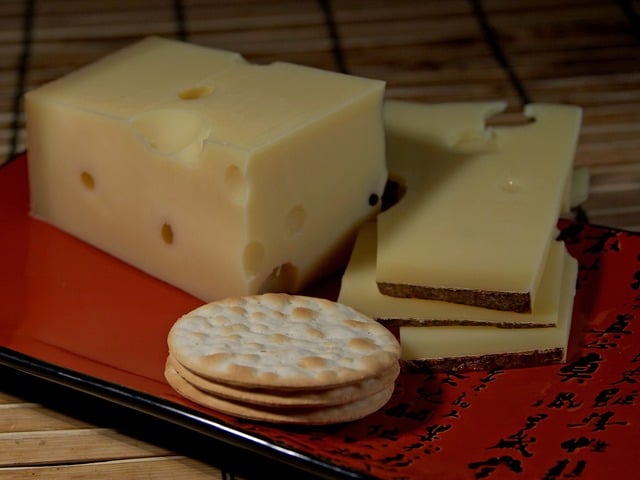 What's interesting about this Swiss cheese is that some people claim it is even tastier than Gruyère! No wonder it won the name "Swiss cheese" even though Gruyère is also of Swiss origin.
Emmentaler is a hard cheese and has a subtle but aromatic flavor with no trace of acidity. Its flavor is quite fruity, making it perfect to use in fondues.
People often associate it with Gruyère because of how close they are in taste. Also, there's good news for vegans! Emmentaler can be made without adding any non-veg ingredient to it.
Jarlsberg — for baked potatoes and flans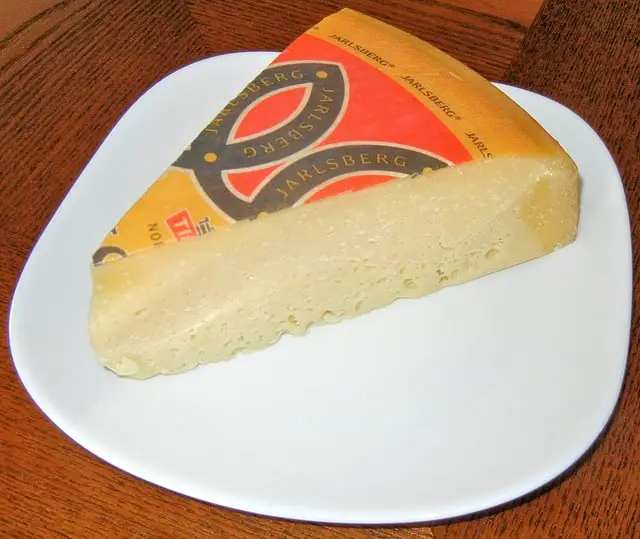 While Gruyère has Swiss origins, Jarlsberg has Norwegian roots. It is a semi-hard cheese that has a mildly sweet and nutty flavor. Therefore, it's a very close substitute to Gruyère (and Emmentaler too). However, Jarlsberg has a slightly stronger flavor than Gruyère. So, if you're opting for Jarlsberg, I would recommend using a smaller quantity than needed.
It's ideal as a topping for baked potatoes, sandwiches, quiches and can also be eaten raw. A lot of grocery stores usually sell Jarlsberg as "Swiss cheese" because of how close they are in terms of taste. The best way to distinguish between them is to test the sweetness. Jarlsberg is usually sweeter than other types of cheese.
In case you can't even find Jarlsberg, you can use Swiss cheese in its place. That would be the next best alternative, especially if you're American, because Swiss cheese is so easily available there.
Comté and Beaufort — for broiling and baking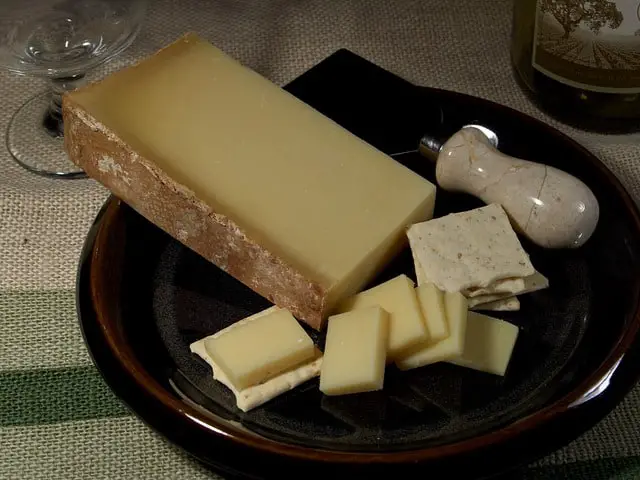 Comté is another semi-hard cheese with a mildly sweet, nutty, salty AND fruity flavor. Its origin is in France where the cheese is left to mature for a long period of time in dark, silent caves. Perhaps that is what makes this cheese so outstanding. Today, it is one of the popular types of cheese among the French.
Comté melts so well that it makes a perfect ingredient for fondues and toppings. However, you can also eat it plain and still enjoy its extraordinary combination of flavors.
Beaufort is frequently associated with Gruyère. In fact, most people consider it to be an extension of the Gruyère family. This French cheese is firm and has a strong flavor and has been a favorite since the time of the Romans! Since Beaufort also melts so well, it makes a perfect ingredient for baking and broiling.
Final words
There you have it. As promised, I gave you NINE substitutes for Gruyère. Now you won't have to skip an entire recipe just because you can't find (or afford) Gruyère.
Of course, Gruyère has its unique flavor, just like any type of cheese. However, by using the substitutes in the right quantity, you might not notice the difference in taste. So what are you waiting for? Go ahead and experiment with your cooking skills!