Agreed, this is not iPhone shopping. But, you better pay heed to the pointers given below because a knife is an everyday use item in the kitchen. It's like the 'soul' of the kitchen. So, let's look at the qualities of the best chef knife.
Sharpness
A simple test can help you determine whether a chef knife is remarkably sharp or not. Ideally speaking, a knife should be able to cut through a tomato without any pressure at all. If it's able to do so over and over again, you can assume that the knife is sharp enough for most kitchen purpose. Keep in mind that most knives won't stay sharp for long. You've to maintain it very well. It helps to choose knives from reputed brands because they will most likely retain their sharpness for longer than generic brands.
8-Inch Knives
8-inch knives are a popular pick among home cooks. Most chefs start with 8-inch knives because it allows them to make precise cuts. Unlike other sizes, this size feels more normal in the hands. Therefore, it won't make you work harder in the kitchen. Not to undermine the fact that it's perfect for a wide variety of chopping tasks. If you buy knives with shorter blade, its gives more control its lighter and ideal for less space. And if you go with longer blade, it can cut more at once and heavier.
Stainless Steel Blades
Stainless steel blades won't rust quickly. Plus, they will demand less maintenance compared to blades made from ceramic or any other material. But last longer. They are easy to sharpen whenever the need for the same arises. Also it doesn't affect with patina and easy to maintain. That said, some of the high-end knives feature carbon steel material. Although it's sturdier than stainless steel, it's not very durable. If you need something in between, you can consider a high-carbon stainless steel knife. It's a tad bit stronger than stainless steel and more durable than carbon steel. But the downside is it'll patina and need more maintenance.
Rockwell Rating
For those who don't know, most of the stainless-steel knives out there lose their edges with time. Those that don't lose their edges are usually hardened by some method. For you to know if the knife is hardened or not, it's advisable to check the product specs for the Rockwell rating. If the knife has a Rockwell rating of more than 56, you can expect the knife to hold its edges for a long time. Anything less than that, there is a high probability that the knife will lose its edges fairly quickly. If you were to consider a knife with lower ratings, be sure to check if the knife is easy to re-sharpen or not. If it's of softer steel, it does require frequent sharpening but resistant to breaks. Harder steel on the other hand is more brittle
Looks
Of course, looks matter whether it's a cell phone or a chef knife. However, looks should be the last thing on your mind when shopping for a chef knife. Ideally speaking, you should prioritize product features and performance over looks. As they say, 'substance over style.'
German vs. Japanese Knife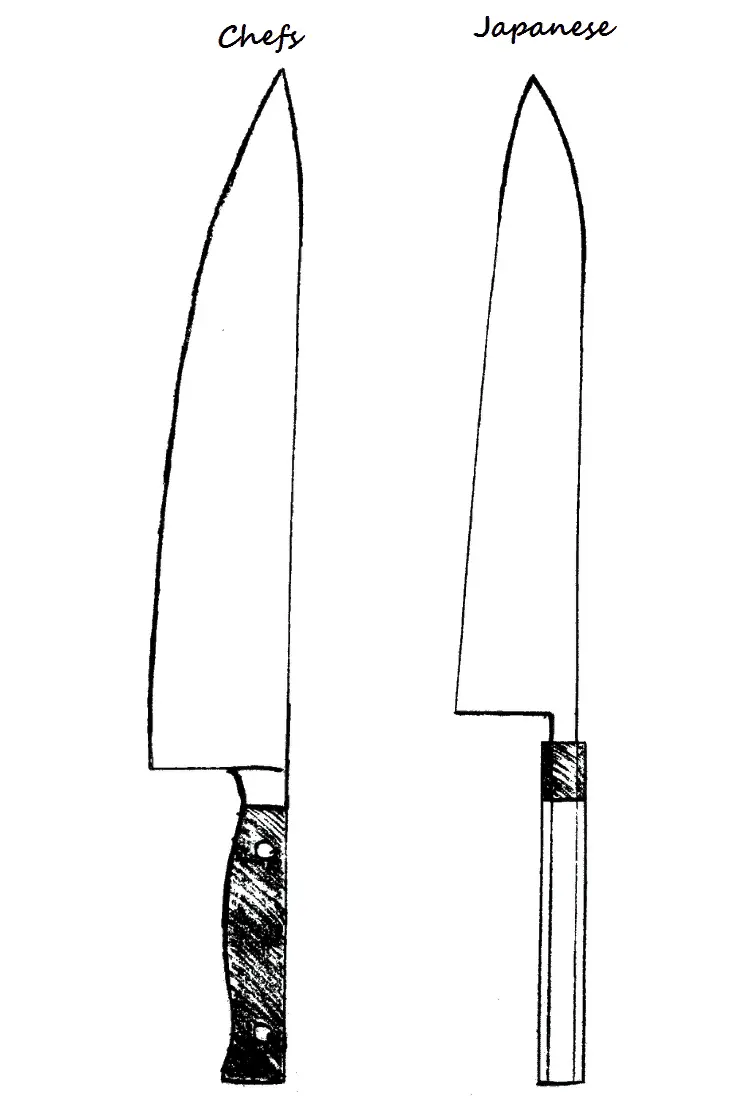 Japanese chef knives differ in size, weight, looks, sharpness, accuracy, edge retention, and a bunch of other things. German knives have rounded belly and is ideal for rocking technique. Japanese knives are ideal for up and down slicing and have straight edge.
Thin vs. Thick
Thin knives are better for most ideal for most cutting tasks is lighter. For heavy duty thick knives are better but the downside is they are heavier.
Single Bevel vs Double Bevel
Single bevel knives are harder to sharpen and have more delicate blade and cut naturally wanders. Downside is it's mainly good for right arm chefs. Doubles bevels are most popular as it can be used ambidextrous. It cuts straight down and more robust. It's easier to sharpen as well.
Handle
Chef knives come with two types of handle. man-made and natural material. Man-made handles lasts longer and its easy maintenance. If you are looking a bit of aesthetics go with natural materials. But the trade off is again the maintenance.
If the handle has a bolster, it protects the hand but blade is harder to sharpen. If there is no bolster, you can hold knife closer to blade.
One more point to note is the tang. If tang is hidden the balance is towards the blade and if its full tang, the balance is towards handle and is more robust
Other Important Pointers:
Spending more money won't necessarily come with an equal increase in the quality of the knife.
The feel of the knife matters a great deal as well. Unless it feels right in the hands, you might not use it as often as needed. So, inspect how the knife feels in the hands. If it doesn't feel right, be prepared to move on.
The knife should have a comfortable grip to it, and it should not slip from your hands during use. At the same time, the knife should be ergonomically correct to help you work for long hours without hand fatigue.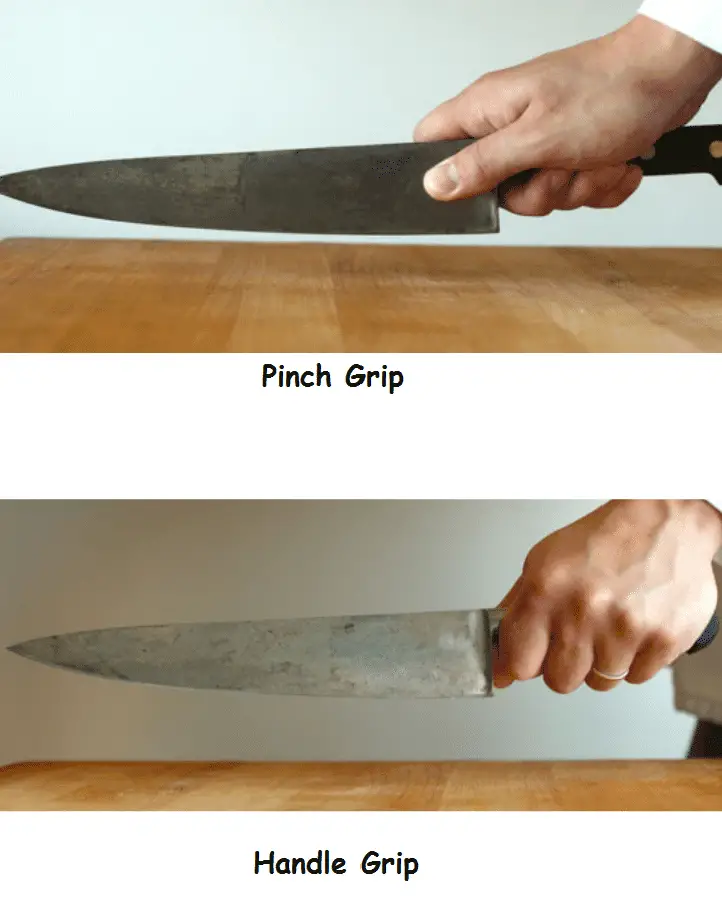 If your budget permits, choose a full tang blade over half tang blade because it offers more strength and balance to the knife. Of course, you should be prepared to spend a little more for a full tang blade.
Don't choose a knife that weighs as much as a dumbbell. A heavy knife may chop well, but it will tire you sooner than usual. Choose a knife that offers a good blend of weight and performance.
Don't throw your knife around once the job is done. Consider getting a protective guard for your chef's knife to prevent the blades from getting damaged. Lightweight knives are a treat to use since they are easy to maneuver.
As far as the blade size is concerned, go for a 6.5″ to 8″-inch chef knife. A Japanese knife of such size can handle most of the kitchen jobs like a champ.
Pay heed to the length of the knife as well. Generally speaking, a knife with a long length will allow you to cut more food.
If you want to lay your hands on an extremely sharp Japanese chef knife, choose a knife with a very thin edge. Of course, use the knife with caution to avoid accidental injuries.